Lilama 18 has been chosen by Kranunion as their main fabricator in Vietnam
In March 2013, Lilama 18 and Kranunion (Germany) signed a frame agreement in which both parties agreed that Lilama 18 has been chosen as the main fabricator of Kranunion in Vietnam and the supplier of their export contracts overseas.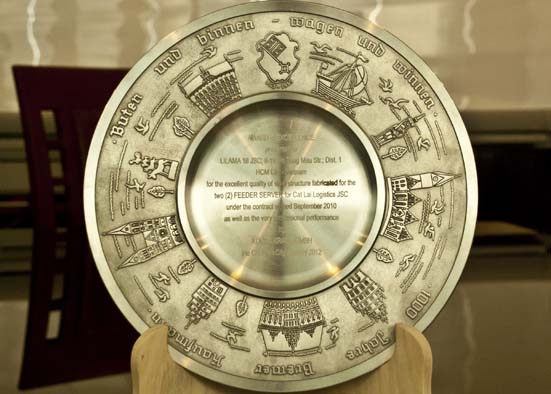 Lilama 18 was awarded a Quality Certificate by Kocks Krane
At the moment, Lilama 18 has been performing 02 contracts of manufacturing cranes for Kocks Krane. The first one valued USD 1.67 million is a contract for supplying material and fabricating 02 Feeder Servers, the cranes with lifting capacity of 40 tons and dimension of 35/18/16m to serve Cat Lai Port. The second valued more than USD 700,000 in which Lilama continues fabricating 02 Container cranes so as to export to Russia.
In the past, Lilama 18 participated in many projects of Kranunion, typically the project of 30 ton unloading cranes – Binh Phuoc cement plant (2009); movable chassis cranes – New Cat Lai Port (2010).
Kranunion is a large corporation consisting of 3 leading crane manufacturers: Kirow, Ardelt and Kocks, specializes in designing, manufacturing cranes and other transport vehicles for ports, ship-building factories, steel factories and rail-ways. During the time working with Kranunion, Lilama 18 has affirmed that it is a businees having adequate capability and self-confidence to meet all the sternest demands on technique as well as art in the field of manufacturing cranes.
Mai Phuong