LILAMA 18 invested to enhance ability, equipment to perform first LNG storage tanks project in Vietnam
Signing contract with Hai Linh Ltd., Co., Lilama 18 has become the first company in Vietnam to be responsible for fabricating and installing 03 LNG storage tanks with capacity of 219,000m3 in Ba Ria – Vung Tau. This has been the most complicated equipment regarding technical requirements in field of petroleum in Vietnam up to now. LNG fuel (Liquid Natural Gas) worked at -168°C. All project materials was imported directly from Europe including welding electrodes.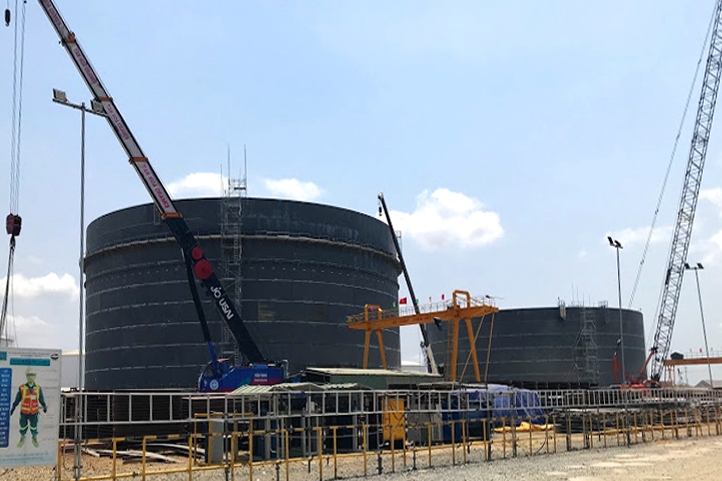 With design characteristic of tanks having 2 layers by Niken 9, materials were not magnetized as required, and there was a distance between 2 layers, the performance with previous techniques became difficult. To meet these high requirements, Lilama 18 has equipped 04 more vertical systems for welding LNG/LPG tanks with one automatic side and 04 systems with two sides for welding tank perimeter, the front was automatic welding side and the rear covered remedy to protect welded joints. All project welders were trained by foreign technology transfer experts to assure that they could use, operate the new welding machines fluently, satisfying the welding procedures according to technical requirements. All welding electrodes, procedures and welders' skill were tested seriously to meet international standards for impact test at -190°C.

The new welding machine system operated by qualified welders of Lilama 18 displayed effects and strong points, enabling to weld tanks with 02 layers easily; this had not been realized by normal welding techniques previously. Using new welding system also helped Lilama 18 save human resource, raise labour productivity 2-3 times as quickly as in the past. Up to now, Lilama 18 has been performing 02 largest tanks, Tank TK202 has been welded 9/13 of outer brim stratum, Tank TK203 has been welded 6/13 of outer brim stratum; the domes of 03 tanks have been fabricated already by Lilama 18.

Though having long-term experience in performing and installing vessels, tanks, realizing this project was still a challenge but a chance for Lilama 18 to master new welding techniques, accumulating more experience when undertaking projects with high technical requirements. We believe that with current ability and experience, Lilama 18 will accomplish the project successfully, contributing to affirm work execution competence of domestic units.
Mai Phuong

Comment