Annual shareholders' meeting 2019 succeeded well
On June 27th 2019, LILAMA Corporation organized successfully the annual shareholders' meeting of year 2019.
People attending the meeting were Representative of Construction Ministry, Mr Nguyen Dinh Hai – LILAMA Chairman of Management Board, Mr Le Van Tuan – Corporate General Director, Mr Nguyen Huu Thanh – Member of Management Board, Mr Bui Duc Kien – Chief Accountant, Member of Management Board, Mr Nguyen Van Hung, Corporate Deputy General Director, Member of Management Board, Supervision Board, General Director Board together with other leaders of functional departments, subsidiary units, shareholders and representatives of shareholders.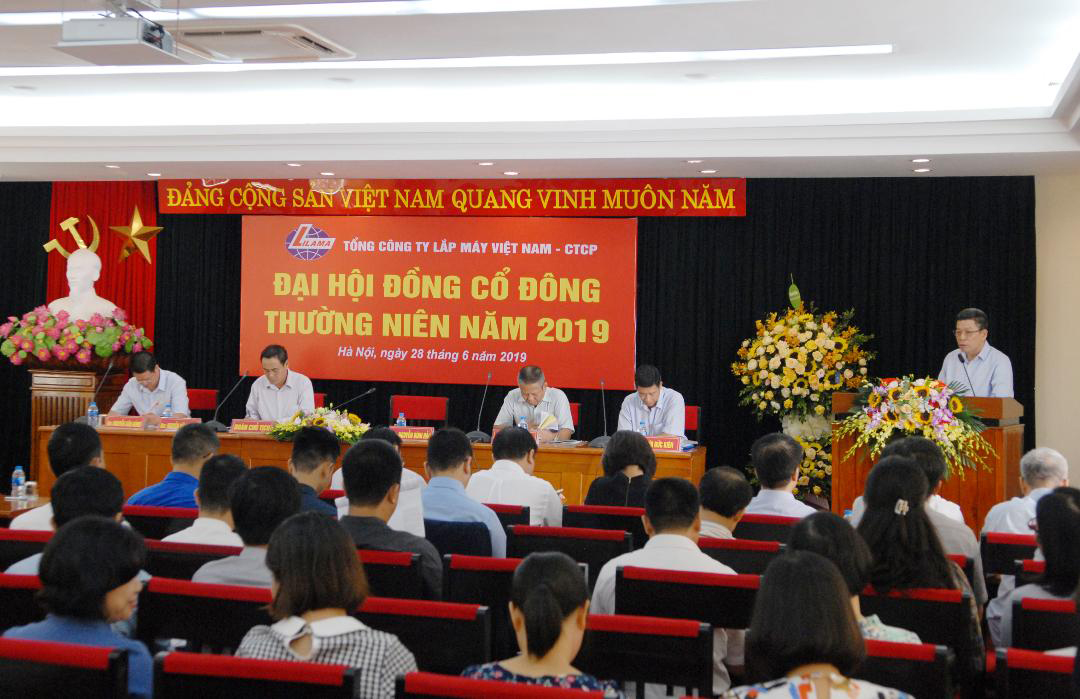 In the meeting, LILAMA shareholders agreed and voted on 2018 Report of operation results, 2019 operation plan orientation of Management Board, Report of production results & investment in 2018 and the 2019 Production & Investment Plan of LILAMA Corporation, Report of 2018 operation and the 2019 Operation Plan of Supervision Board, the 2018Audited Financial Statement and other important documents.
In 2018, LILAMA realized divestment out of some units having no effect in operation under the approved Restructure Scheme. Due to specific characteristics of business, financial conditions of companies and context of market, seeking partners to transfer LILAMA capital is very difficult and has not achieve the expectation.
However, with efforts in production, LILAMA finished and surpassed the production plan under Resolution passed on by shareholders' general assembly in the annual meeting 2018, namely Turnover 10,089.3 billion dongs/8,542.2 billion dongs, reaching 118.1% of plan, Profit before tax 55.4 billion dongs/52 billion dongs, achieving 106.5% of plan, paying budget 526 billion dongs/400 billion dongs, achieving 131.5% of plan.
In difficult context of market as forecast, LILAMA Corporation set up the 2019 plan cautiously so as to assure the most feasibility and actualization with some main targets as follows: charter capital 797.26 billion dongs, total turnover 5,750.4 billion dongs, profit before tax 75 billion dongs, paying state budget 150 billion dongs, paying dividend 5% a year.
One of the most important activities of Management Board in 2019 is continuing to direct the Corporation to speed up the implementation of Restructure Scheme (3rd adjustment) and plan of implementing the approved scheme, especially paying much attention to divestment out of enterprise as per setup schedule. After Scheme of Restructuring and Enhancing Management Ability of Corporation period 2016-2020, Orientation upto year 2015 (4th adjustment) is passed on by shareholders' general assembly, Management Board will direct the Corporation to deploy the implementation of restructuring contents under plan.
After a time working actively, efficiently, shareholders voted on the whole contents presented in the meeting with high agreement. The meeting succeeded well and ended at 11:45 a.m.
Thao Chi
Comment