LILAMA commenced to manufacture and assemble 55 green hydrogen modules for NEOM Project in Saudi Arabia
Recently, LILAMA Corporation and Thyssenkrupp Nucera AG&Co. KgaA - the EPC Contractor held a commencement ceremony in Hai Duong Mechanical Manufacturing and Fabrication Factory for fabrication and assembly works of 55 electrolytic modules for NEOM Green Hydrogen Plant Project in Saudi Arabia.

NEOM Green Hydrogen Plant Project is the first, also the largest in the world, which applies electrolytic technology in 20MW-capacitated green hydrogen modules researched and developed by Thyssenkrupp AG. When put into operation in 2026, the plant shall produce 600 tons of non-carbonic hydrogen per day. It is an important energy project to Saudi Arabia aiming at realizing orientation of "the vision of 2023" with a desire of releasing the country's current reliance on oil exploitation in this nation as well as reducing the impact of carbon emissions worldwide.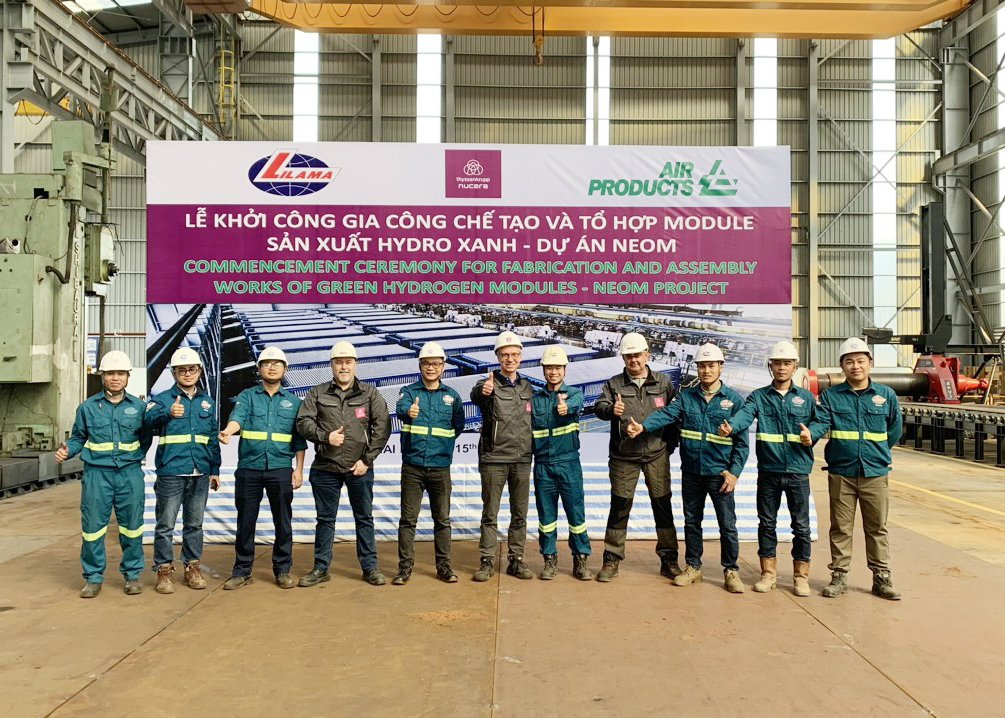 Addressing speech at the ceremony, Mr.Jose Soares – Project Performance Manager as the EPC Contractor Thyssenkrupp Nucera representative said, "The Neom project is a very important work to Thyssenkrupp Nucera for its construction and operation shall meet the need of making transition for the world energy toward sustainable and friendly-environmental development, at the same time reducing gradually the reliance on fossil fuels and carbon emissions."
Besides, the project requirements on technology, quality, safety, and schedule were strictly high, therefore, challenges faced would be also great in every step of execution from human resource mobilization, quality control to progress mastering.
Upon the success of previous projects, Thyssenkrupp Nucera expressed their trust in relationship with LILAMA this time. Mr. Jose Soares also stressed, "We are truly honoured to co-operate with LILAMA in the NEOM project. After the successful completion in fabrication and assembly of 02 green hydrogen modules for the West Coast Hydrogen Plant Project in the USA, LILAMA had strongly affirmed its capability and prestige as a leading company in this field. We believe the partnership between us shall certainly create more high-valued mechanical products."
To LILAMA, this project has a great and special significance. It took LILAMA team of managers and engineers nearly 3 years to prepare all necessary works from negotiation to figuring out and developing options for project performance. LILAMA is so confident in fulfilling the project successfully and satisfying the client's requirements on safety, schedule as well as strict standards on products quality.
Previously, LILAMA Corporation had signed and accomplished a contract with Thyssenkrupp Nucera in manufacturing and assembly 02 electrolytic modules for West Coast Hydrogen Plant Project in the USA.
Nguyễn Cường
Comment