LILAMA: Seeking for the strategic investor
On March 01, 2023, the Department of Business and Finance of MOF and the Japanese Group 5 (under the leader of Mizuho Bank) held virtually the Seminar on introducing the State-owned enterprises to Japanese strategic investors in Hanoi. LILAMA Corporation was one of three Vietnam companies introduced to participate the meeting this time.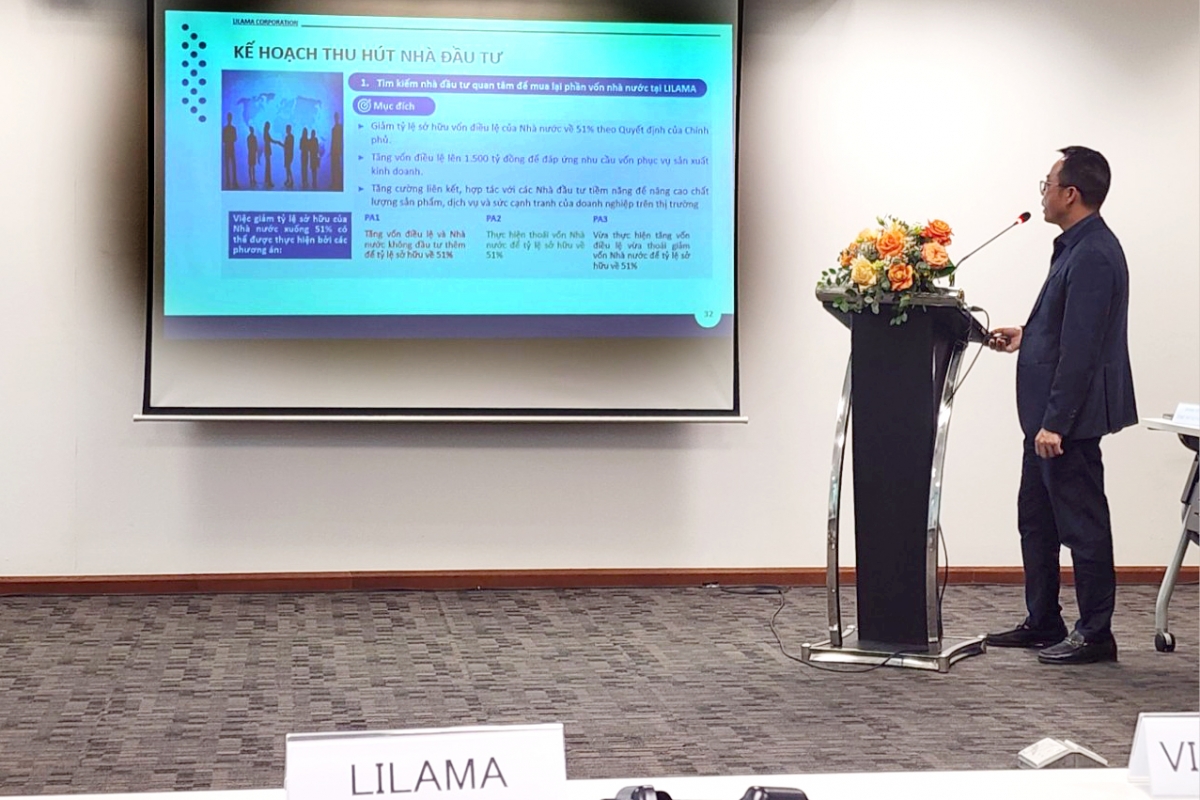 Mr. Hoang Minh Khoi – Vice President of LILAMA Corp. giving presentation at the seminar
Participants attending the seminar were representatives of MOF's Department of Corporate Finance, Ministry of Planning and Investment (MPI), Ministry of Construction (MOC), the State-owned Capital Investment and Business Corporation (SCIC), the State Security Commission of Vietnam (SSC), Commission for the Management of State Capital at Enterprises (CMSC) and three domestic corporation including LILAMA, Viglacera and Vietnam Maritime. On Japanese side, there were members of the Working Group 5 for "Vietnam-Japanese Joint Initiative Phase VIII", representatives of Mizuho Bank and more than 100 Japanese businesses in consideration.
At the Seminar, Mr. Hoang Minh Khoi – Vice President of LILAMA gave his presentation generally on the performance of business operation, finance statement, and business strategy of the company, which were highly appreciated as well as attracted the attention positively by the Japanese investors.
Mr. Khoi said that, LILAMA should keep following the Initiative in the coming time, while providing further information to the interesting Japanese investors through which the company will possibly find strategy investors with a view to realizing successfully the Government's guidelines on State-owned enterprises rearranging and divesting, as well as the Scheme on restructuring LILAMA.
According to the Government's guideline, LILAMA Corporation is one of enterprises listed in the businesses directory rearranged and divested the state capital down to 51% the charter capital. After reviewing the State's plan and upon criteria initiated by the Working Group 5, LILAMA is assessed to be an object suitably to the Initiative program and likely to draw attraction of Japanese investors.
The Vietnam – Japan Joint Initiative Phase VIII is a framework initiated basing on the agreement between two countries' leaders aiming at promoting investment environment in Vietnam as well as enhancing the competitiveness of Vietnamese industries through boosting to receive foreign investment resource.
PV
Comment