Strong assignment of national mega projects as missions to competent domestic enterprises
The necessity of mission assignment to implement national mega projects to domestic capable enterprises should be realized for the sake of strengthening their power in the next works.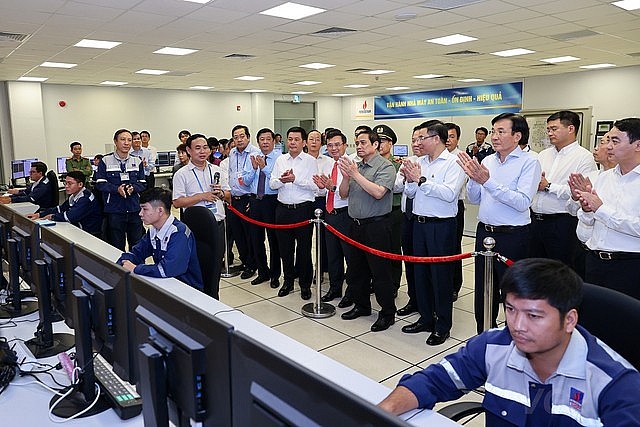 Prime Minister Pham Minh Chinh and his delegation visiting the Master Control Room at Song Hau 1 plant on the inauguration date of July 16th, 2022
Mentioning Song Hau 1 success in the inauguration speech on July 16th, 2022, Prime Minister Pham Minh Chinh expressed his point of view on the necessity to encouragingly assign national missions of implementing large projects to strongly capable enterprises in the country.
Strong assignments of important projects as missions to capable domestic enterprises
The 1,200MW Song Hau 1 thermal power plant project, which owned by PetroVietnam and Lilama being the EPC Contractor has been completed and put into commercial operation after 7-year construction facing so many difficulties and suffering two seasons of Covid-19 epidemic. The new plant working shall make an important contribution to the national energy security and economic development of the Mekong river delta.
Assessing the project efficiency, Mr. Prime Minister stressed that the construction mainly performed by a Vietnamese EPC contractor had proved the maturity of domestic enterprises. Through this project, the capability of the Owner PVN, LILAMA as EPC contractor, and subcontractors, as well as the well-training officers and workers both made great strides. The project also obtained the safety as satisfying all the requirements of environmental protection despite it uses coal-fired technology when producing electricity. Its successful completion is a strong confirmation of Vietnam's growth of every aspect including the development of an independent and autonomous economy.
Also in the speech, Mr. Prime Minister commented that we have completely been right in consistently building up a self-controlled industry for fields of energy and material production, as well as mastering the engineering technology upon this achievement. It means Vietnam groups and large companies shall become more grown and be credited by the Government in taking mega projects as mission assignment, aiming at an autonomous and cost-saved economy development.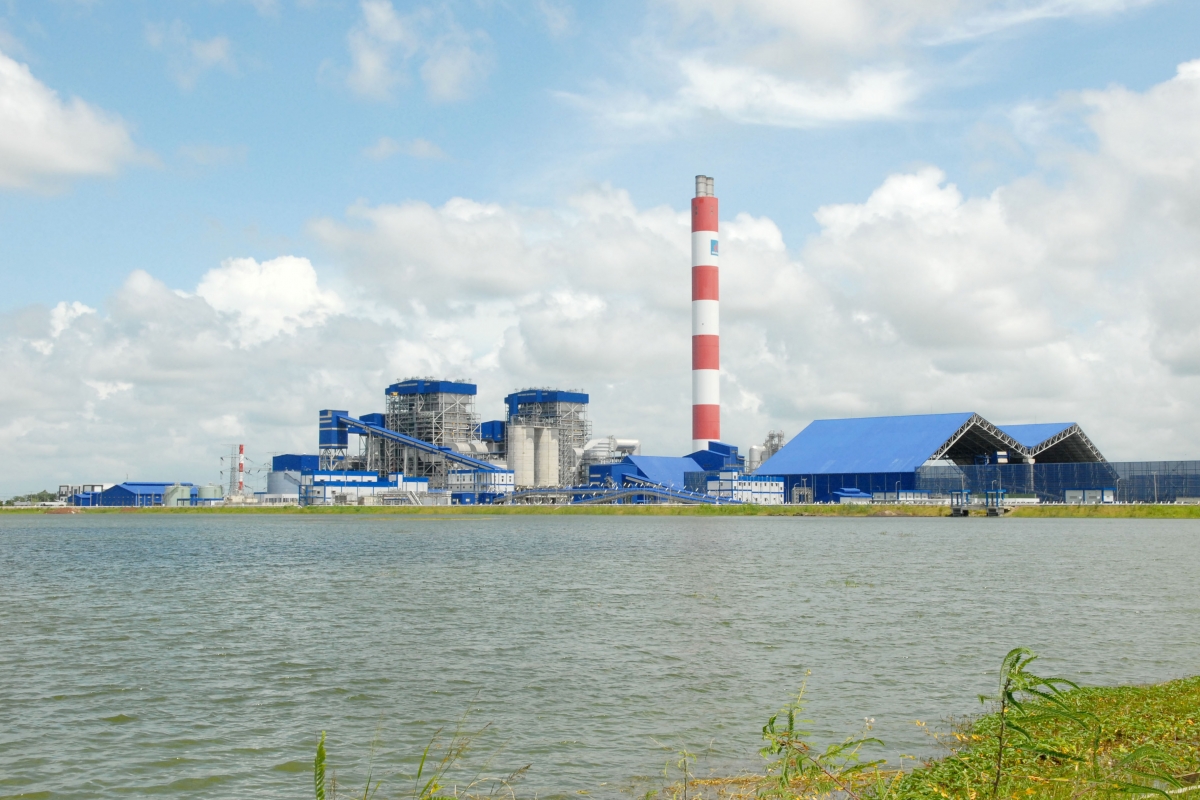 Song Hau 1 plant completion marked with Vietnam engineers' and workers' hands and brains after 7-year experiencing many challenges and 2 seasons of Covid 19 spreading
Domestic enterprises emerged to master mechanical engineering
Labor Hero Le Van Tuan - LILAMA President & CEO as the Song Hau 1 EPC Contractor said that the project is the first one of the kind fulfilled by a domestic company with the successful application of supercritical technology. This did assert the recognition for the possibility of Vietnamese businesses in performing large-scale power works. Before Song Hau 1, LILAMA had strongly affirmed the role of EPC Contractor through performing the following power project such as Uong Bi Extention plant, Ca Mau 1 & 2, Nhon Trach 1 & 2, Vung Ang 1 during the past years.
Since the commencement dated May 2015, Song Hau 1 plant had been started to execute on the land, which could be described as an initially deserted and swampy area squared 150ha on the southern bank of Hau river in Mai Dam town, Chau Thanh commune, Hau Giang province. Until the end of 2015, the first main foundation piles been driven down, and in July 2016, just after 7 months LILAMA and subcontractors performed the installation of boilers, and then the main transformer.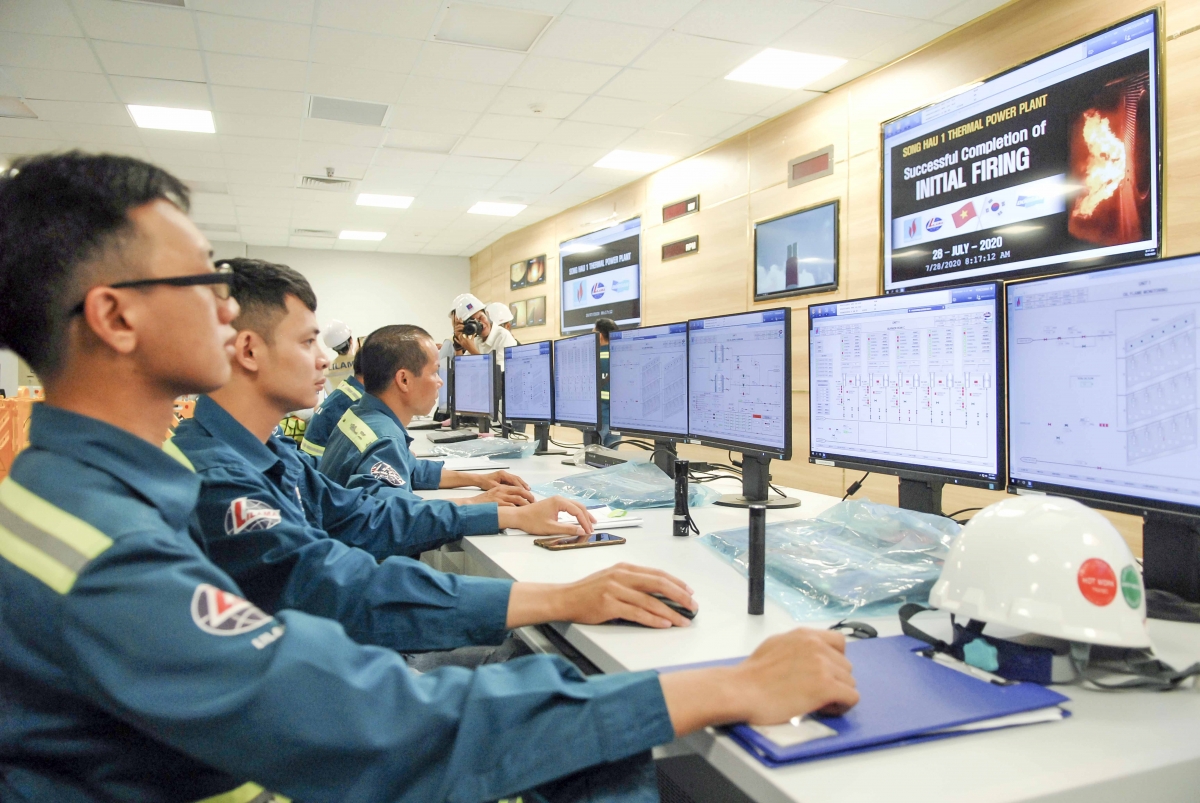 LILAMA engineers working in the Master Control Room during the celebration of the first firing for Boiler#1 successfully
It could be said that Song Hau 1 has also marked the growth of Vietnamese engineers' and workers' hands and brains in machinery erection. According to LILAMA Project Manager - Engineer Vu Trong Thiet, there was a number of items like steam boilers, turbines, water ports, material conveying systems, etc… regarded as the hardest work to execute due to the utmost importance of equipment used, level of highly difficult technique, and require much time to do. Besides, the performance of many oversized equipment and components such as giant piles, steel structures for boilers, 10,000-ton water tubes including 100-ton components erected at an altitude of 84-metre height, especially a super-heavy component which lifted and placed precisely into 18-metre-high basement by using specialty equipment called a hydraulic jack system in installing the 1,000-ton generator was also the liveliest illustration for LILAMA staff creative mind and skillful hand.
In addition, the project made up a record on huge quantity of installment work. Mr. Tuan - LILAMA President & CEO said that during the whole project process from the groundbreaking day, the EPC Contractor and other subcontractors had accomplished the total volumes as follows: over 10,000 tons of material and equipment for installation, 270,000 m3 of concrete and steel structures for building, and obtaining 25 million hours of safety working performance. All items' quality met the technical figures and standards as required according to the EPC contract. Remarkably, another record also created was the rate of domestic localization of material & equipment engineering and manufacturing segments reaching over 30%, even up to 55% for self-production supplying that done by domestic companies for some packages.
In fact, LILAMA had to hire a foreign company to be the technical advisor when realized the first coal-fired contract in 2022. So far, the company has been developing and much confident in dealing with the most difficult 'case' on its own. Therefore, "the accomplishment of Song Hau 1 project today has not only marked the growth of the domestic enterprises like the Owner, the EPC contractor, subcontractors, but also been the leading staff's pride as they were the Vietnamese taking the main roles in all project stages from engineering, procurement, construction and installation, testing and commissioning, operation", stressed by Mr. Tuan.
The State should act as a "midwife" to promote the domestic business development
In recent times, not only with Song Hau 1 but many domestic enterprises also have emerged and gradually confirmed their ability to master technology and enter the global value chain.
For example, domestic mechanical manufacturers have successfully produced and assembled almost types of vehicles such as cars, trucks, and coaches which typical firms like Vinfast, Thanh Cong, Thaco, etc. should be listed; remarkably, motorbike manufacturing with a localization rate of 85-95% satisfied the demand of both domestic use and export aims.
More particularly, Thaco Auto Company - a Thaco's sub-company specializing in mechanical accessories and components production has expanded its business by developing suitable products with large quantities and high quality. In home market, this unit boosted the demand-supply chain by selling these products to many famous brands of motorbikes and car manufacturers as well as FDI companies like Hyundai, Toyota, Isuzu, Piaggio, Amann, Mekitech, etc…
Mr. Dao Phan Long - Chairman of Vietnam Associate of Mechanical Institute (VAMI) analyzed that upon the updating statistics, an annual average value of 40 billion USD of equipment, material, and machines overseas was imported to Vietnam in the last 5 to 10 years mainly for the production in the field of industry, agriculture, infrastructure, services, and national security. This means the supply market still remains so large in the country that many other foreign countries wanted to account for it but do not have a chance.
At the same time, Vietnamese companies did not take many shares in the mechanical market and almost tried to self-help to operate the business under an incomplete-mechanism with shortcomings and not to receive efficient support from the State's policies for getting more contracts from the public investment like other countries, leading to losing even in the home court.
Mr. Long added that the State shall invest and deploy many national mega projects valued at USD 300 billion including the National Electricity Plan VIII in the period of 2021-2030 (USD 133 billion), Long Thanh Super-High Railway (USD 50-60 billion), inner-city railways, public construction including transportation, irrigation; oil and gas exploitation; marine economics, shipbuilding, automobiles, motorbikes… in the coming times.
Therefore, to take advantage of the home court, it is necessary to have close consideration and direction from the State in supporting domestic enterprises to get large project contracts. Besides, the localization policy with the State's role as a "midwife" needs to create more opportunities to promote development of domestic units in the mechanical market. As reality has shown in the past, there were a number of these businesses who had fulfilled successfully the State's mission assignment with 'trying before trusting', proving their strong capability as EPC contractors.
Nguyễn Duyên (báo Công Thương)
Comment