Successful installation of Nghi Son 2 TPPP Unit 1 Generator Stator
In the morning of May 21st 2020, the Construction Unit 5 of Lilama 18 Co. (a Lilama's subcompany) has successfully installed the Unit 1 generator stator under the witness of the Owner – the Joint-venture of Marubeni - Kepco and the EPC Contractor Doosan in the Nghi Son 2 Thermal Power Plant Project (TPPP) site in Hai Ha commune, Tinh Gia district, Thanh Hoa province.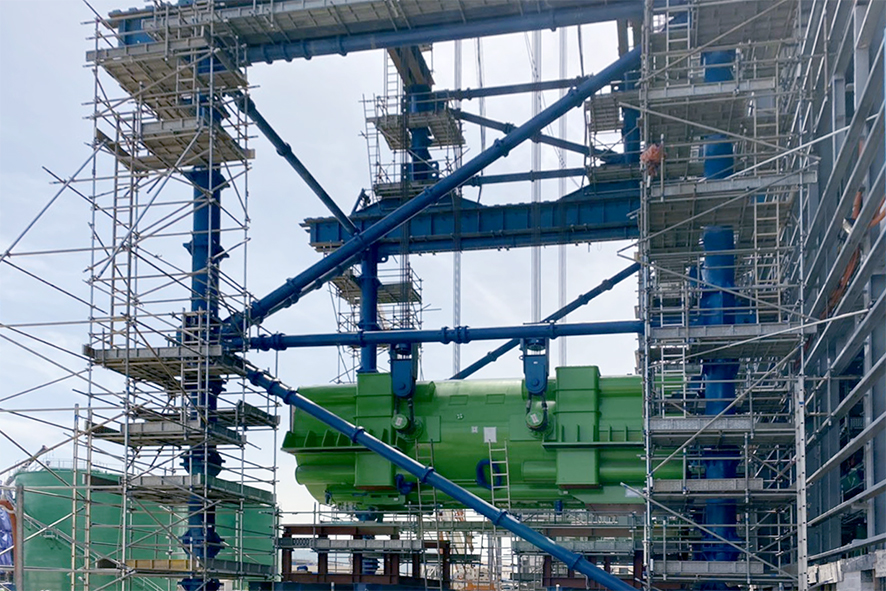 The Unit 1 generator stator installed and positioned safely and precisely in Nghi Son 2 project site.
The Unit 1 generator stator supplied by the EPC Contractor Doosan (South Korea) weighs 360 tons with dimensions of 10.77m x 6.02m x 4.65m. After 12 hours of constantly working under the severe hot and sunny condition, the generator stator has been successfully installed and safely positioned marking the most important milestone in main equipment installation of the Nghi Son 2 plant.
In Nghi Son 2 TPPP, Lilama as a sub-contractor performed a volume of about 95% the plant mechanical – electrical work. At the present, the execution is in the busiest period of time with more than 2,500 people in site to make great efforts for reaching the next important milestone of pressure testing of the boiler #1 in mid-August 2020.
The Nghi Son 2 Thermal Power Plant Project is a BOT project which the Joint-venture Marubeni-Kepco is the Owner and Doosan Group the EPC Contractor with the total capacity of 1,200MW (2x600MW) applying the supercritical coal fired technology.
Posted and Picture by Hai Trieu
Comment