Hundreds of trillion VND in "freeze" (Part 2)
Part 2: Which solutions for 'blocked' projects?
The year-to-year 'hibernation' of many national important projects had caused aggregated losses and excessive total investment. Although owners and contractors even ministries and departments of different levels have managed to seek possible measures in action like inspection, proactive settlement,… but many knots especially on mechanism were still remained. It is necessary to have decisive and strong solutions for these projects to overcome the drama and put them into operation in the earliest time for recovery of the past loss and damages in compensation for the national economy.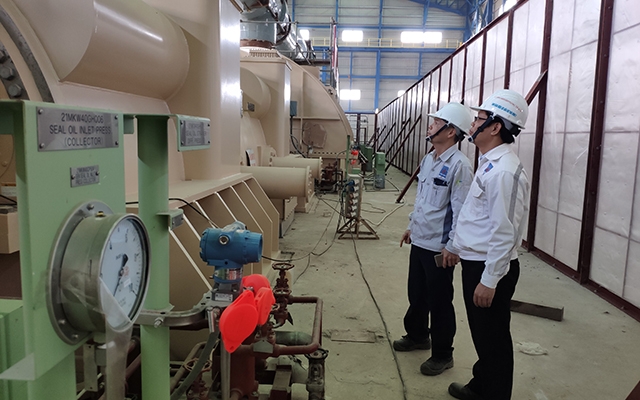 Turbine installation supervision by Thai Binh 2 TPPP PMB's engineers
An unclear mechanism
Leader of PetroVietnam Song Hau 1 Power Project Management Board said that, one of the reasons in Song Hau 1 TPPP's schedule delay was the slow completion of Song Hau – Duc Hoa 500kV transmission line project and 500kV Switchyard of Song Hau Power Center owned by EVN for it shall be energized back to supply power for commissioning stage of the plant. However, the difficulty in specific mechanism applied for Song Hau 1 TPPP stated in the Decision No.2414/QĐ-TTg is another reason, known as "payment and cash basis", by which all construction items shall be paid 80% based on temporary unit price calculation after completion and finishing the commissioning, while the remaining 20% is kept for standby and shall be paid in full after a final revision agreed. In fact, the unit price regulated in the national standards and norms were rather low and not fully reflected in comparison with that at the time of execution. In addition to 20% discount from future payment, the contractors' finance seem to be 'squeezed' and have no more chance to participate in other project packages bidding. Besides, according to the current regulation, auction stage in bidding shall be required to the package of total value more than VND 500 million, which should raise the management costs up due to long lasting project period as a sequence of one package stage in delay or a partly or wholly revision that lead the project back to the initiation.
The Deputy Manager of LILAMA Song Hau 1 TPPP PMB Tran Kim Bich shared, although the unit price revision stated in the Contract should be applied afterward, the temporary price in the real situation was still much lower, from which contractors are the main parties suffering from deep loss. After completion, the total contract value should be appeared much higher while the owner seemed to disincline to make revision upward. If the owner did not do that, no contractors should carry out the work. Generally, with the role of EPC contractor, Lilama had to mobilize thousands of workers, materials and equipments in the project site and keep making greatest efforts in management and coordination for the project not to be delayed to avoid wasting costs and expenses as well as lowering productivity. As the matter of fact, if the above difficulties were unsettled soon and involving parties came to agree with the option of temporary payment, Lilama should have to be responsible to open the payment bond for the owner kept itself in safe in case it could not get back uneven money afterward. In fact, the temporary payment also contained disadvantages for the EPC contractor as it affected the total management costs upward during execution, while Lilama itself had not enough money funding for payment. This blocked situation causes Lilama being in debt and unaffordable to carry out work and involving in 'more jobs, more loss".
Nevertheless, many performance initiatives and innovations for shortening period of project execution and creating economical effectiveness were discouraged because no regulation of this kind as precedence was involved in the current standards from which payment for application of the kind should be made slowly or not lead to constriction of creativeness. Although LILAMA Song Hau 1 PMB has set up a separate department for payment affairs only on site with assignment of a Lilama Vice President in charge of making decision for matters beyond the PMB' authority, the circumstance on mechanism and policy difficulties were still unchanged. The longer the process lasts, the lower the effectiveness is, which shall directly affect the whole project schedule and the plant hardly be put into commercial operation in an earlier or on time.
An urgent need for turning on "green light" on mechanism
Regarding to Thai Binh 2 TPPP, the double difficulties in both disbursement non-extension and domestic funds disarrangements caused it suspend. By the end of July 2019, a meeting was held among the Minister of Commerce & Industry Tran Tuan Anh, Chairman of Commission for the Management of State Capital at Enterprises (CMSC) Nguyen Hoang Anh, Chairman of PVN Tran Sy Thanh and Secretary of Thai Binh Provincial Party Committee Nguyen Hong Dien and other representatives from ministries, departments at levels for solutions at Thai Binh 2 TPPP site. As a result of an disagreement of disbursement from the Ministry of Finance, PVN leaders asked the Ministry of Commerce & Industry for a permission on using the owner capital in increasing but not exceeding the total investment of the Thai Binh 2 project. Mr. Thanh even firmly assured that "The PVN Board of Management Member all agreed on this option in consent, but authoritative agencies showed their hesitation with no active decision at that time. PVN should bear responsibility itself in capital management for Thai Binh 2 disbursement to the Communist Party and the Government and in technical engineering to the Ministry of Commerce & Industry as they signalize 'green light' for us. Let us follow mechanism in a possible way!" However, PVN's urgent request has still been received no active response over a half of the past year.
The Deputy Manager of Thai Binh 2 TPPP Nguyen Hoang Lam affirmed that, if the project financial difficulties were solved by the end of 2019, it is likely that the Thai Binh 2 project should be completed and put into commissioning operation by the beginning of 2021. Within the total investment of VND 42,000 billion in which VND 33,200 billion had been disbursed, 15% of the total schedule and 8% of the construction were remained. There would be an unlarge amount of VND 2,500 billion more needed to make the plant working with promising benefits. It is comprehended that above PVN's request did not influence the Total Investment but inducing technical solutions to the Thai Binh 2 TPPP. If the project was officially operated, it shall produce a more 7.2 billion kWh each year. In contradiction, if not, in the context of power source shall be seriously lacked after the year of 2020, about VND 35,000 billion shall be cost for running with another kind of fuel like diesel instead to offset the planned/expected energization of the plant.
Regarding the Tisco-II, VnSteel has proposed an option of divesting 65% State capital in Tisco with the Commission for the Management of State Capital at Enterprises (CMSC) in order to submit the Prime Minister for commentary from ministries and departments. This issue opened opportunities for private enterprises to participate in Tisco as shareholders. At present, Tisco as a state-owned joint stock enterprise, together with MCC, cannot make decisions on settling all difficulties of the EPC Contract in the shortest time as two private companies. Any decision after negotiation with MCC should be reported and submitted the higher authoritative level for approval, which would last the duration of execution and miss a lot of chances for resumption of the project. If the divestment is approved, a possibility of restarting the Tisco-II will be active as knots in mechanism which made the project languish for many past years is untightened. Many experts assessed that this is a possible and effective way (the only way) for the Tisco-II not only to put an end to the waste and loss but also open a saving path for the project in this vital time.
In fact, is the Tisco-II possible to be restarted and resumed? To answer this question, perhaps there is nothing more practical than making a look into the real circumstance of the project. Particularly, over 12 thousand tons of materials of cables and electric box, … (accounting for 90%) had been imported and kept in over 8,000 tanks which were strictly maintained in storehouse with sound and thermal insulation and fully lighting in comply with the current standards and regulations. The most important part which is referred to 'the soul and brain' of the plant is the controlling and automation system of 653 tons in weight until now has not been imported so the fear for its quality getting worse is not happened. According to the experts in the steel industry, some of the project auxiliaries and items that had been constructed outside the plant now are become rusted under the affection of weather conditions that might be quickly mended and recovered in a short time with low cost.
According to Mr. Pham Chi Cuong – Ex-Chaiman of Vietnam Association of Steel, BOF metallurgy applied in the Tisco-II plant is a popular technique in the steel industry with about 70% of the manufactories worldwide using this technology. Therefore, resumption of the Tisco-II in a sooner time would be advantageous. Until now, the total investment had been disbursed an amount of about VND 4,400 billion, quantity of work been installed 143 of 146 items on materials and equipments uncompletely, while the contractors still waited availably for project operation in their full duties, and it is more important that Tisco's leaders and labourers as well as Thai Nguyen people show their wish of a Tisco-II plant completion for operation in a near future day. On the basis of a convergence of all good conditions with an urgent need of a suitable mechanism for recovery, the project will be assure of not suspending again by no reasons.
In recent years, the national economy was lack of mega projects as frontier and foundation for growth of the country in the future time. Many large important projects in the preparation stage have been still not working really. That they are in 'freeze' mood shows the consequences of a fear of making mistakes, bearing responsibilities from leaders and staff, or receiving common guidances in return after submitting request with sayings "must conform to the legal regulations" from authoritative levels. Besides, many regulations are contradictory and overlapped from which depress their motivation and make them cower for safe. It is worth mentioning that this matter not only have been happening in several national projects but also become a popular phenomenon in most of the State and local agencies where no officials or even no leaders dare to take duty and responsibility, which gradually reduces the belief and causes serious damages afterward for the national economy.
(Continuing…)
Thai Binh 2 TPPP was in a need of more than VND 2,500 billion for completion of the remaining 15% total schedule. The Government had assigned the Ministry of Commerce & Industry in coordination with the Commission for the Management of State Capital at Enterprises and other relating ministries to review PVN's proposal for added project disbursement by its owner's capital for resumption. Unfortunately the situation still gets stuck as no authoritative levels involved in . Although PVN committed this funding arrangement should be possible with an extraction of 20% profit left back , but no decisions were made after the application for approval had been run a full round of authoritative agencies. If the owner were the private enterprise, it would be much easier to do, while not like the state-owned, it shall have to bear responsibility and meet difficulties in the State mechanism for all the duration.

TRAN VIET NGAI
Chairman of Vietnam Energy Association
(*) See People's Nhan Dan Newspapers for the first post dated Dec23rd 2019.
Posted and Pictured by Correspondents on Economic issues
Comment