Hundreds of trillion VND in freeze (Part 3 – The end) (*)
Part 3 (the end): Special mechanism to "defreeze" and recover suspending projects from difficulties
While the State budget was trying to balance expenditures especially for investing national development, hundreds of thousand trillions VND was frozen in mega projects which used to be monumentally commenced but could not see the future date of completion. If this situation was not urgently recovered in term of schedule, the State money could be all lost just after a few next-coming years as the capital for invested assets remained diminishment day by day. The chance to revive these projects was remained, however it closed after every time opened.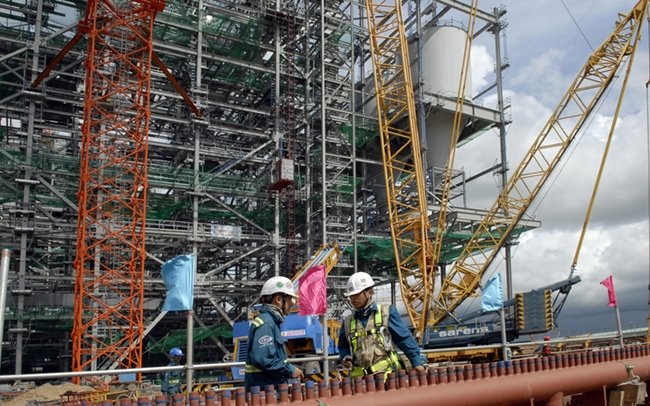 Lilama engineers and workers performing on the Song Hau 1 TPPP site.
Strong and decisive policy for recovery
In order to recover the suspending situation for projects like the Tisco-II, Thai Binh 2 TPPP and Song Hau 1 TPPP, there would be an urgent need of a special mechanism as a priority promulgated by the Government after finding out "knots" in these difficulties to pose a possible solution for resumption and avoid long lasting waste. Chairman of the VEA Tran Viet Ngai said that: "According to the national target of power generation production to the year of 2030 planned to gain 129,500MW, a capacity of about 7,000MW per year which is equivalent to US 13 billion dollars in the total investment shall be expectedly produced. Therefore, a temporary and effective solution is essential not only for Thai Binh 2 TPPP but also other projects stated in the General Power Plan VII which are facing financial issues under mechanism constraint too."
According to Mr. Dao Phan Long - Chairman of VAMI, under mechanism constraint, Thai Binh 2 TPPP and Song Hau 1 TPPP schedule were standstill or even unable to speed up despite the owner's capital was available to continue funding but not increase their Total Investment. In fact, matters on law also influenced working spirit of many stated owned companies' leaders during project performance, especially there existed a shift like passing the buck to the upper authoritative levels showing lack of responsibility that caused work process more and more tangled. If there were not any possible solutions to recovering that situation of these large capital-out projects like the Thai Binh 2 and Song Hau 1 immediately by advisory suggestions from the responsible and qualified authoritative leaders, it would affect directly to the general power security for the country according to the National Power Plan VII.
The circumstance of Tisco-II was much more dramatic with series of difficulties such as lack of money, dispute in the Contract with the MCC EPC contractor (as MCC required to raise the total investment up to US 100 billion dollar for definite completion), and disagreement of disbursement of VND 1,800 billion from banks upon 100% guarantee bond. For nearly two year after the Resolution No.64/NQ-CP promulgated by the National Assembly and over 01 year after the Government's approval on the oficial option for dealing it, these two remedies still could untreated difficulties due to the story on fear of responsibility. The fact that no levels of authority were active and decisive in action to help recovering the Tisco-II posed it into a new crisis and on the edge of bankruptcy. Regarding the disbursement of VND 1,800 billion for VnSteel from Vietinbank, the loan had been sold to VAMC (Vietnam Asset Management Company) and rated in the non-performing loans. Therefore, VnSteel requested Tisco to mortgage its two coal-mines for securing its bank guarantee duty with Vietinbank for this loan while issued shares for raising capital aiming at transferring a partial debt into stocks, however all these ways were impossible.
According to the financial-banking expert Nguyen Tri Hieu, basically it was unlikely to have an administrative order to force the bank to charge off the Tisco-II's debt but the risk sharing through debt restructuring. The project needed pouring more money for resumption which only came from interested investors in which they could see potential profits. As it was running by new investors, the banks did not collect the old dues by circling debt and wait until the project recovered and developed, both principle and interest should be returned. In conclusion, the current debt of the Tisco-II was only paid by new investor's money. However, this was a less effective way for the involved bank was the state-owned and hardly flexible for debt restructuring. On the other hand, when a project met the financial problem, it had to be dealed in a limited time of one year, but that of the Tisco-II had been lasted for 10 years, this meant the responsible authorities were too slow to give out solution for it. Mr. Hieu stressed: "This case is a hard lesson for state-owned enterprises in terms of production, business, divestment and equitization".
Passing chance to new investors
The Government's viewpoint was not to use the State budget for funding to save the delay and loss projects. Regarding the Tisco-II, after a quite long time difficulties and hibernation experiencing, now the only important thing is a need of an effective solution to get over and complete for its soon operation and prevent from more unworthy existing loss. To do this, it is necessary that the Government should consider and agree with Tisco for its divestment, leave it to self-decide whether the Tisco-II project is continued or not. The sooner the divestment is carried out, the more chances the project will be saved and recovered, which shall put an end to the waste and damaged loss while avoid of compound interest and devaluation. At that time, the State only might suffer from immediate loss in the short term for not regaining 100% the budgeting capital but help the Tisco-II stabilize jobs and salary payment for nearly 4,500 labourers, as well as work dealing with 500 partnership companies and tens of thousands people in the southern areas in Thai Nguyen province who all are living off for metallurgy production.
Many of economic experts shared agreement on a thorough divestment as the best remedy for the Tisco-II at present for its inability of wait but immediate action. If it was left for more, the abundant on finance shall be the main reason to cause it sink irretrievably. One of the experts commented: "The MCC EPC contractor's sharing investment needs to be separated for its own bankruptcy which is then sold under a public auction to private sector companies who were interested and would develop the project differently. It is necessary to hire experts or consultants for reassessing its situation, then giving options for choice before proposals. On the contrary, had the solution process to be kept conform to the legal regulations for capital preservation, we do not know how long it would be revived while its value for sale was gradually down to just equal to steel scrap and no one can actually recognized it as an in-use national work."
Assoc. Prof., PhD Tran Dinh Thien – Ex-Chief of Vietnam Institute of Economy said that the divestment of Tisco-II should be followed the current market evaluation. Particularly, price of a VND 100 billion asset would cost VND 1 billion at the time it was evaluated VND 1 billion, not be referred to the same value as the initial on the basis of capital preservation for no invested capital remained. In this circumstance, selling the asset is a likely way of releasing debt for no dues payment afterward, and after resumption and final completion, the plant operation should compensate the lost investment of which the even money was then considered to the worthy price for correcting the wrong past decision. It could be said that none of the authoritative agencies are able to settle this without a special mechanism for it under the current legal system unless Tisco and the responsible parties held discussion meetings together to analyze and propose a best solution. The necessity of a clear question making and solution proposing should be set forth for the National Assembly's consideration to uphold and issue guidelines for fixing, because it's time not to leave the situation suspending and create more loss and damages for the national economy anymore.
The ex-Chairman of Vietnam Steel Association Nguyen Chi Cuong said that, when all these matters were solved, new investors would find themselves assure to funding the Tisco-II in segments and complete it in sequence for operation such main items as blast furnace, BOF furnace from which billets were produced and supplied for the rolling mill production. That was not counted for some items removed to reduce costs and expenses of the total investment which did not stayed much as that proposed under the Government's requirement of only the large capital owner who was permitted to find new investors for restructuring. This was a painful experience in coordination with a foreign contractor that need drawing lesson for next projects.
On the viewpoint of the economic policy makers, Doctor Nguyen Dinh Cung – the Ex-Head of Central Institute for Economic Management (CIEM) frankly said that, projects of the kind like the Tisco-II, Song Hau 1 TPPP, Thai Binh 2 TPPP or many others indeed became losing assets, and we could not deline our mission to revive, resume and put them into operation for production. These assets should not be ignored just because of violation from several individuals. If there were an exit for them, not only many billions of VND but also benefits would be created. Let private enterprises have chance to invest them. All of authoritative leaders and responsible officials should agree in decisions for their general development. Mr. Cung also shared: "My opinion is inclined to the option of supplementing some hundreds of VND for projects in a real need of saving many billions VND. When these plants are recovered and operated for production, the issue on its divestment or equitization shall be considered for the best advantage for the State and the enterprises".
Mr. Cung also stressed that the divestment and equitization could not certainly get back the equal valuation of the State money, while the situation of these projects is presently in emergency because they are the state-owned properties which were burdened with debts and could be no longer wasted. Time of making choice for resumption has gone to deadline. In this urgent and decisive time, it is necessary to have a special mechanism and daring decisions beyond the customary in order to revive these incomplete national works. If the current legal regulations become odd and unfashionable to prevent the project performance from running well, innovations are needed to avoid of being victims of overlapped and unclear procedures born from our own formation.
* Part 2: Which solutions for 'blocked' projects?
* Part 1: Uncompleted and cumbersome projects
-------------------------------
(*) Further see on the Nhan dan Newspapers for two series dated December 23rd and 24th ,2019.
"From the practical experience through the successful major projects like National Centre for Conference, Son La and Lai Chau Hydropower Plants, … we believe that the model of a National Direction Board for each large project, which is headed by a Deputy Minister with involvement of leaders from ministry, department and local agency as members, has showed its great effectiveness. The way this Board working is to hold a regular meeting once a month for dealing with difficulties arising on site during the project performance aiming at schedule promotion. In the present context, it is necessary to apply this model to project management for making immediate decisions effectively while many legal regulations are still overlapping and unable to help settling this. The facts that difficult matters from mechanism constraints have not been dealed in time and non of the responsible ministries or departments has enough authority to decide in some major projects have seriously caused them suspending, inactively performing, wasting and damages for the country economy.
Labour Hero LE VAN TUAN
President & CEO of LILAMA Corporation
Posted and Pictured by Correspondents on Economic issues
Comment