Lilama 18 working through Lunar Tet Holiday in project sites
As the spring of the lunar new-year 2022 arrives, most of project activities on sites had been paused for the Tet holiday - a traditional festival of Vietnamese people. However, this has become the most advantageous time to accelerate construction to meet the schedule as required in return for short-time working to prevent the dissemination of the Covid 19 pandemic during the past time as well as to keep safety for labourers' health. So far, as the key national projects, both Long Son Oil and Chemical Refinery Plant Project (in Ba Ria Vung Tau province) and Van Phong 1 Thermal Power Plant Project (in Khanh Hoa) were carried out executing in a hectic state through the lunar new year holiday.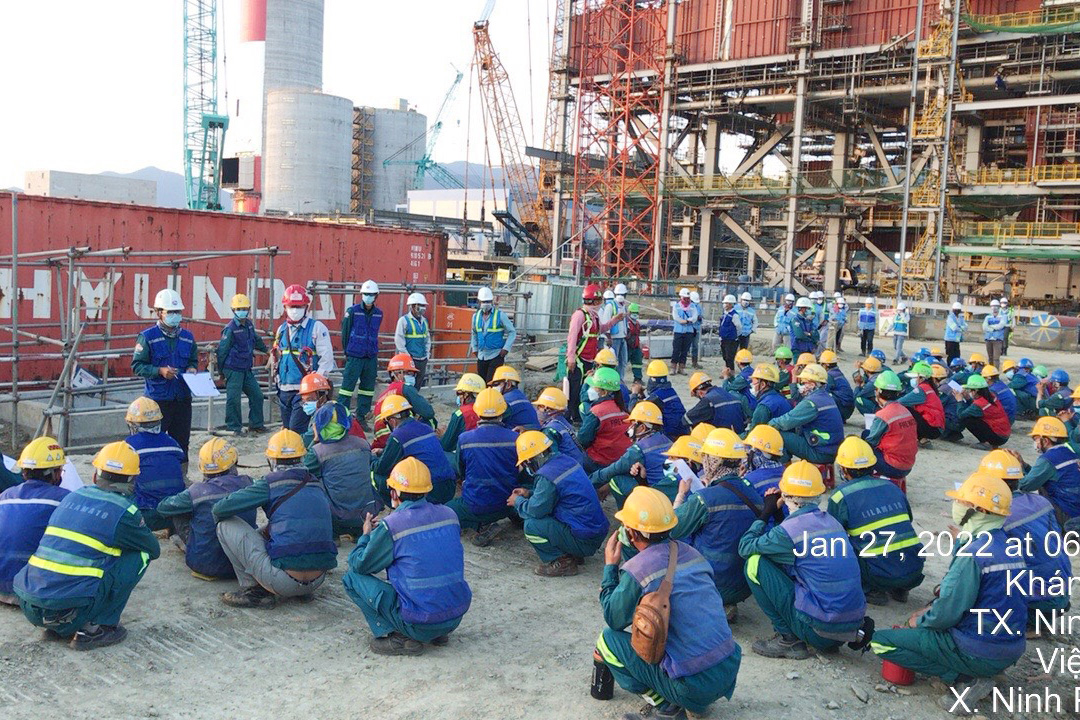 Lilama 18 workers ready for the first working shift in the lunar new year of 2022
Tet celebration on sites
In the Long Son and Van Phong 1 sites, harmonizing with the dynamic sounds of the vehicles and equipment, the skilled workers were hurrying to start their jobs under the direction of the engineering experts. The days closed to the lunar Tet 2022 also were an advantageous time to accelerate the schedule and take all-out forces on execution. The overall picture was fully heart-touching as either labourers and technicians who all desired to come back home for family gathering on these special days, were willing to stay themselves on site working through the Tet. It could be said that this is the first time for 477 people to spend their Tet holiday far away from home, in which 268 and 168 are staffed in Long Son and Van phong 1 projects respectively. Their determination also expressed the whole project leaders' and staffs' decisiveness toward targets of the completion and commercial operation for both Long Son project before July 2022 and Van Phong 1 BOT (1.320MW) in 2023.
Schedule acceleration during Tet holiday
The Long Son Oil and Chemical Refinery Plant is a mega national key project of a very important meaning in the social and economic development of the country generally and Ba Ria - Vung Tau province particularly. It has a total investment of about USD 5.4 billion and is expected to create job opportunities for 15,000 to 20,000 people during construction, and over 1,000 high technological staff when commercially operating. It shall make a contribution with an estimation of USD 60 million per year to the State budget within 30 years after being put into an official operation. From November 2022, all Long Son items had been developed including the USD35.517 million-valued package on installation performed by Lilama 18 (a Lilama Corporation sub-company) and assigned by large tenders like LILAMA Corporation, PVCSM, POSCO, Lilama 69.1… At the present, there are 03 subsidiaries of Lilama 18 company joining construction for the project with a number of human resource mobilized is 764 labourers.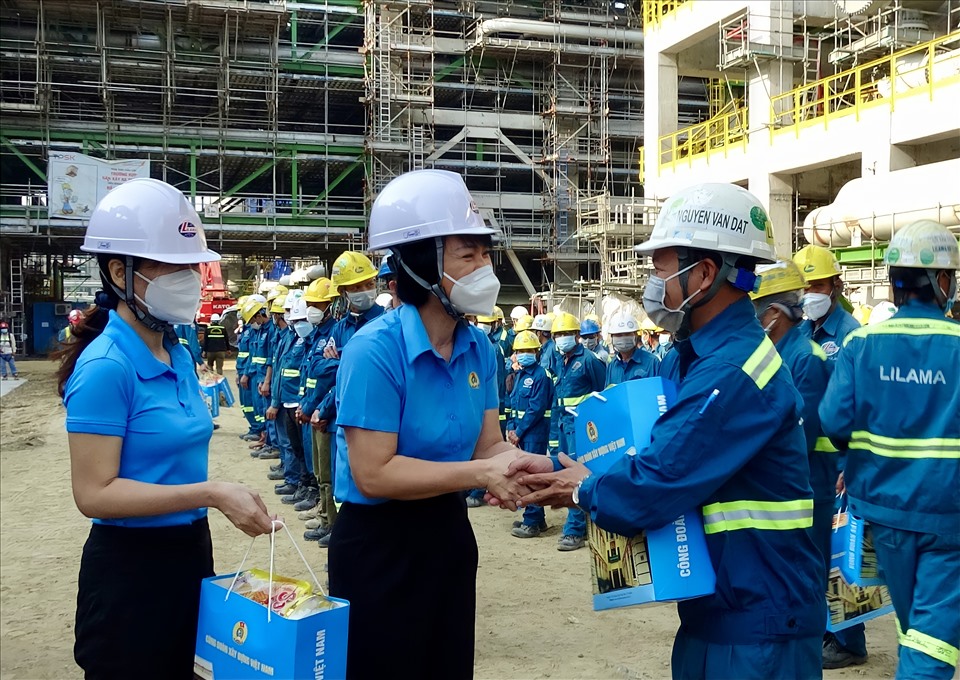 Nguyen Thi Thuy Le - Chairman of Vietnam National Union of Building Workers gave presents to workers
in Long Son Oil & Chemical Refirnery Plant Project. Pictured by Manh Tung
At the same time, Van Phong 1 Thermal Power Plant project is located in Ninh Phuoc commune, Ninh Hoa district, Khanh Hoa province with a total investment up to USD 2.58 billion, in which VPCL is the Owner, POYRY the Supervision Consultant, IHI the EPC Contractor, JEL as contractor. Under the contract signed with JEL and Lilama from May 2022, Lilama 18 should perform the steel structure installation work for plant boilers (660MW per each) with the total investment of USD 62.764 million, until now, the item on main beams installation had been completed and works of next milestones had been developed. The project's engineers and workers were decisive to fulfill the schedule on time, especially the painting work… by keeping working through the period of Tet holiday.
With the plan of enhancing construction through the lunar new-year days, Lilama 18 had encouraged the labourers in time by carrying out suitable policy on salaries and bonus payment following current regulations of the State and the company. Therefore, the people who remained to work through Tet holiday all felt content and enthusiastic although they would not have a family gathering, for taking this favourable time to push up the project schedule. This has a special significance to Long Son and Van Phong 1 projects as they both are located in the strategic development region that need completing, putting into operation and handing over on time.
Thu Hồng - Duy Tình
Comment