LILAMA best preparation for onshore pipeline & station construction in revised Nam Con Son 2 project
The revised Nam Con Son 2 project was owned by Vietnam Gas J.S. Corporation (PV GAS) of which EPC-3 package (on onshore pipelines & stations EPC) was implemented by an EPC contractor joint-venture of Vietsovpetro (VPS), Vietnam Machinery Corporation (LILAMA) and National of General Construction Consultants J.S. Company (NAGECCO).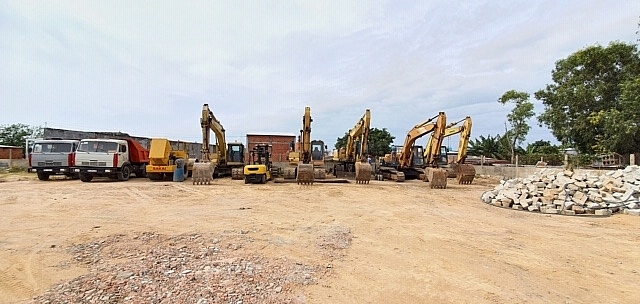 LILAMA gathering field for vehicles & means, and material field No.1 in preparation for the first 480-meter pipeline testing construction for EPC-3 Revised Nam Con Son 2 project (Photo by Duc Nam)
It was stated that the total value of the EPC contract on construction of onshore pipeline & station (EPC-3) of revised Nam Con Son 2 project was 1,363 billions VND, and the EPC contractor was the joint-venture of VSP – LILAMA – NAGECCO in which VSP was the leader, LILAMA responsible to construction and installation, and NAGECCO to engineering. The contract schedule should be 540 days from August 8th 2019 till September 30th 2020 for the completion of onshore pipelines and stations available for commissioning operation which would receive the first gas flows from upstream Sao Vang – Dai Nguyet field of Indemitsu Kosan in Lot 05-1B/1C of Nam Con Son basin of Vung Tau offshore in October 2019.
According to Mr. Nguyen Anh Tuan – Manager of LILAMA Nam Con Son 2 (NCS2) PMB as the main constructor of EPC-3 package, LILAMA at present had been focusing on all preparing works and resources needed for execution in the middle of December of this year. Most of contracts on land renting including 03 grounds for performance, 02 fields of gathering materials and equipments had been signed by LILAMA except the field No.2 still under negotiation; a working group assigned by LILAMA on land renting and land clearance along both sides of constructed pipeline route were also established; contracts on providing medical care, guarding and security services on the project site were all signed and begun to carry out.
At the same time, LILAMA human resource and equipments had been mobilized into the gathering field No.1, No.3, the performing ground No.2 and the testing ground. A working team in charge of inquiring for execution licenses from the relating authorities was set up meanwhile other necessary activities in construction preparation such as the safety as well as guiding and training course on practical safe procedure had been held for newcomers on the project site, especially for the workers performing on pipeline safety corridor. Safety monitoring and supervision was also secured to prevent the site from the least risks and dangers during execution.
The revised Nam Con Son 2 project was one belonged to the General Plan to develop Vietnam gas industrial field period to 2025, orienting to 2035 which had been approved by the Government. Therefore, the project contributed an important role in the synchronous development of Vietnam industrial infrastructure. It had been having a long term of growing from the feasibility study started in 2010 till the completion of section 1 for handing over and exploiting in 2015 with 151km long pipelines onshore connecting to Thien Ung shipyard.
As one of the important parts of the revised Nam Con Son 2 project, the onshore pipeline & station EPC (EPC-3) package had scopes of work including: shop-drawing engineering, material and equipment procurement (except main pipelines of 30 and 26 diameter), pipeline construction and installation; commissioning operation for the following main parts as: Item 1: 8km of 26 diameter pipelines from Long Hai LFS to GPP2; Item 2: approximate 29.5km of 26 diameter pipelines from GPP2 to Phu My GDC; Item 3: approximate 25km of 6 diameter pipelines transporting LGP from GPP2 to Thi Vai Storage; Item 4: 25km of 6 diameter pipelines transporting condensate from GPP2 to Thi Vai Storage; Item5: installing industrial equipments and pipelines in Phu My GDC.
Mr. Tuan also shared that the revised Nam Con Son 2 project is a large scale project, so both LILAMA and the EPC Contractor Joint Venture had had to make great efforts to implement EPC-3 package to meet requirements in terms of safety, quality and on-time schedule. This also a specially important project in ensuring the national energy securities and clean material input for power production.
Nguyen Duyen
Comment