Lilama: Requests for Vietnam Mechanical Industry development
At present in Vietnam, it would be extremely difficult and challenged for the Vietnam Mechanical Industry in general and mechanical enterprises in particular to develop with limited finance, low technology, backward and weak governance, if there were lack of the State's supporting role as well as orientation, especially the mechanical industry was referred to the one with hard technology that demanding for not only large invested fund but also long-time payback period.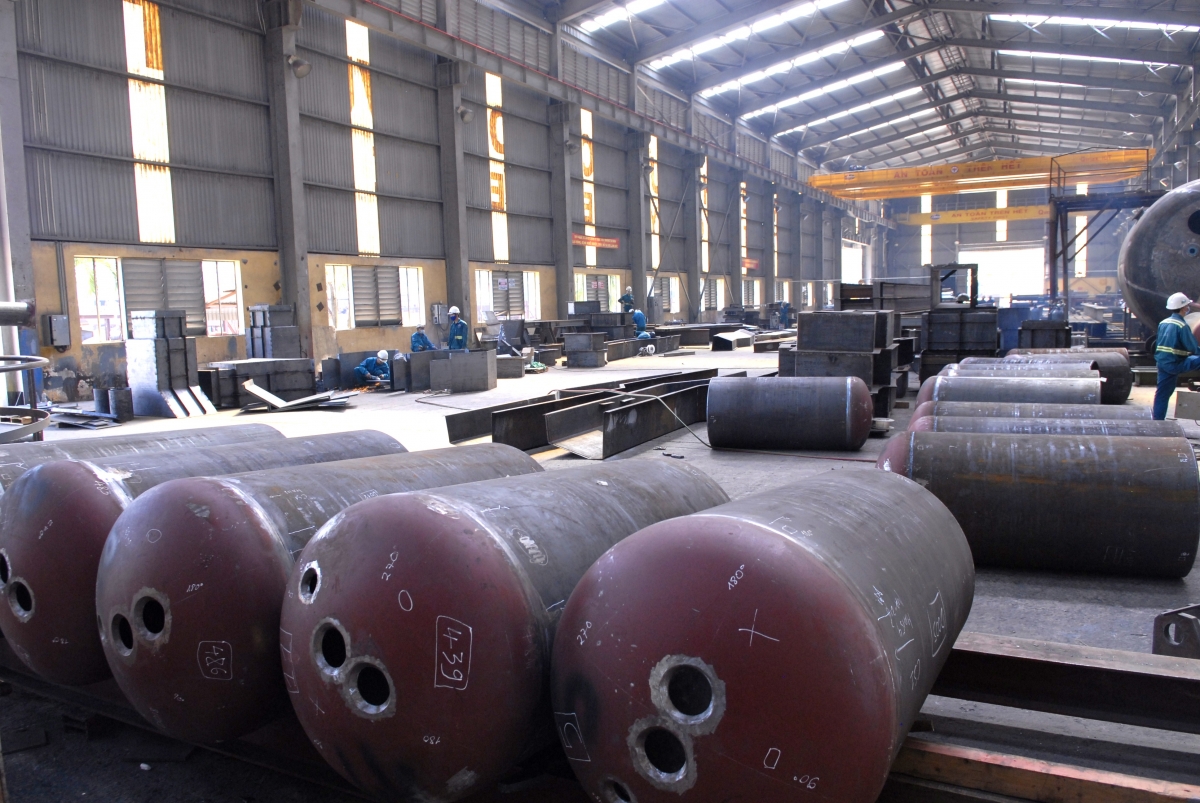 The State's priority policies has not been touching the mechanical enterprises
At the "Conference on Vietnam Mechanical Industry development solutions" held on recent September 24th, the Minister of Industry and Commerce Tran Tuan Anh reported that currently there were about 25,000 companies accounting for 30% of the total number of mechanical enterprises all over the country. Nevertheless, there are only a few national brands developed by the domestic companies that are mainly small sized, low competitive and unable to master core engineering technology which met only 32% of the country' need.
According to Doctor Nguyen Chi Sang – Vice Chairman cum General Secretary of Vietnam Association of Mechanical Industry (VAMI), development of mechanical industry would bring about a significant profit reaching tens of trillions USD for the national economy within the coming ten or twenty years, especially investment in building large main industrial plants and work projects of the country.
However, Mr. Sang also said that Vietnam industry enterprises had not yet mastered the engineering of equipment, machines or complete industrial design therefore they were unable to engineer and manufacture complete products while labour productivity was low, product quality is unstable, production cost is high which make them being unable to join the global supply… There were a number of reasons causing this matter. In fact, the Government had issued a number of decisions and priority policies for mechanical industry development, especially for land-use charges, credit loans as well as other specific supporting policies… but in fact Vietnam domestic mechanical enterprises had not benefited from these due to the stuckness in conduction.
Which solutions for developing Vietnam mechanical industry?
Before that situation, Mr. Le Van Tuan – President & CEO of LILAMA Corporation, who had been devoted to and had long-time working commitment with the home country's mechanical industry, gave out his requests and contributing opinions in his speech at the Conference.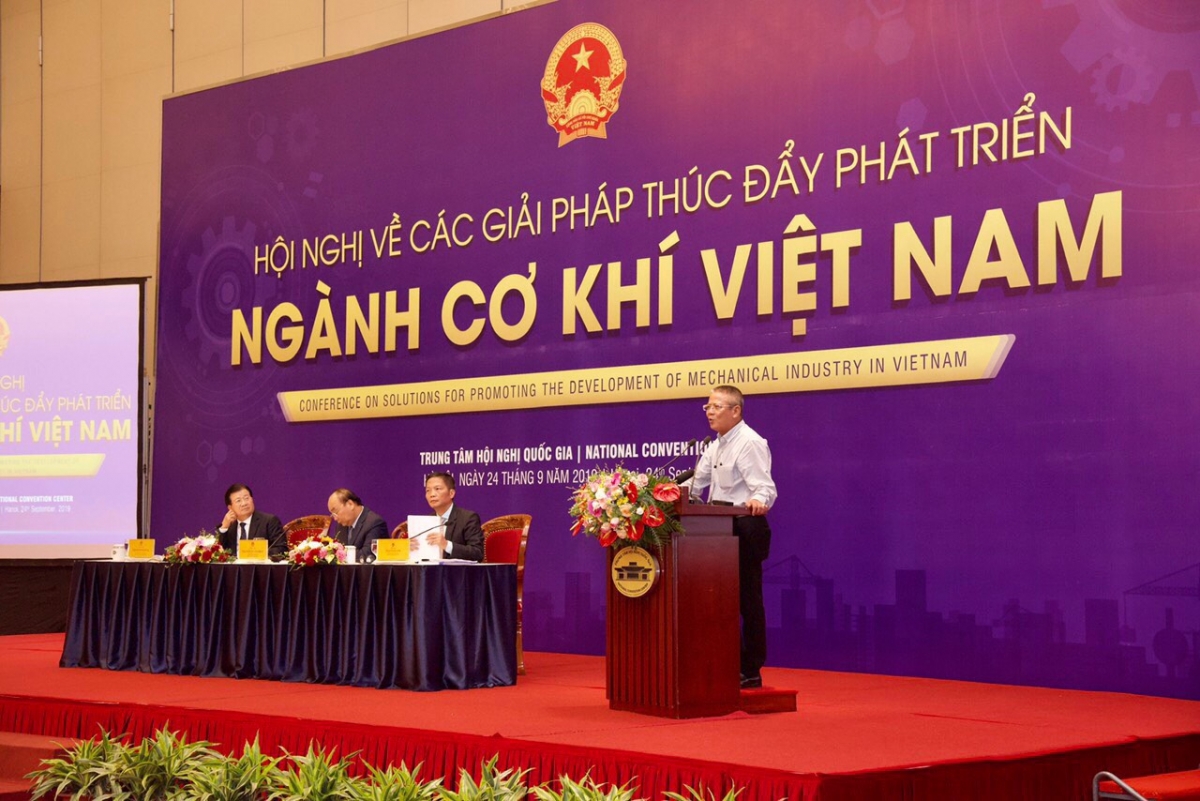 LILAMA's President & CEO Le Van Tuan addressing speech at the Conference.
Firstly, regulations which were applied to all projects invested in Vietnam without financial source discrimination from the State budget, private company or FDI investment… should be clear, tightly-supervised and seriously strict by the State. It is necessary to formulate specific rule of penalty on each case of project work if any violations. Particularly, in case the national enterprises were capable to take over mechanical production work, a regulation being mandatorily executed by them was needed, which should be considered from the early stage of project forming and planning for approval.
Secondly, the State with its regulating role on macro-economy, should concentrate to stimulate and preferentially develop such mechanical input fields as metallurgy, molding and forging products… In fact, the domestic metallurgy industry had not been improved so most of Vietnam enterprises forced to import input material of this field which made them more difficult to compete with offshore companies in term of price and schedule in general.
Besides, although the mechanical industry was "backbone" the national economy, but there had been not any worthy authority agency of management for many past years. As a matter of fact, Mr.Tuan requested the Government to consider and establish an agency at the same level as general department in order to manage, supervise and timely support all relating mechanical activities with the aim of promoting Vietnam mechanical engineering industry development.
Vietnam Federation of Mechanical Associations, Vietnam Association of Mechanical Industry should play and improve their intermediate role as a bridge connecting with the State management agency to mechanical enterprises as well as deeply participating in orientation, supporting and stimulation for the mechanical enterprises development.
Regarding to the management of labour importing in Vietnam who directly worked for mechanical manufacturing field, it was necessary to promulgate a policy on granting quota for well-qualified labour only such as R&D personnel, engineering consultation for complete process design of which the domestic human resource was unable to do in terms of qualification and experience. If there was this request, it was because many national projects had been awarded to successful offshore bidders, especially bidders from China of which all Chinese labours using for the project's execution were taken into Vietnam. As the result, the risk of Vietnamese labours without jobs was higher and higher in the home country.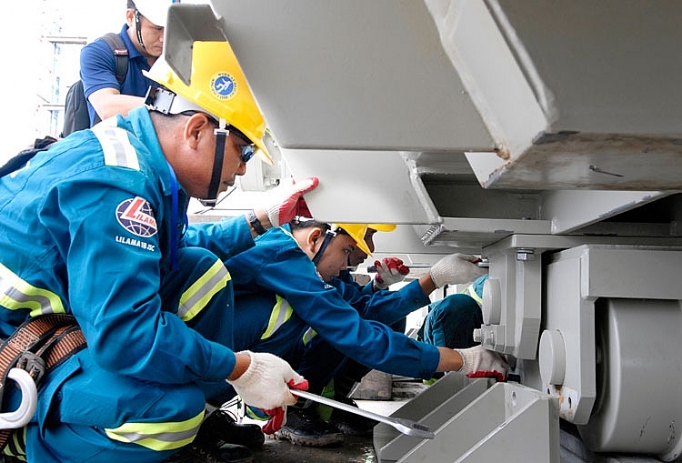 Considering preferences on tax policy and land-use rental charges
In addition, Mr. Le Van Tuan also gave his request on mechanism and policy aiming at facilitating the development of the mechanical engineering industry. Particularly, in order to achieve target of the Development Strategy of Mechanical Industry until year of 2035 under the Decision No. 319/QĐ-TTg dated March 15th 2018, the State should also review, consider promulgation of a number of specific incentive and supporting mechanisms and policies for domestic enterprises.
The first is about tax policy. Mr. Tuan requested the State to consider: (i) business income tax reduction with a procedure till 2035 as follow: product export tax rate would be 0% until 2015, 5% from 2025 to 2030, 10% after 2030; (ii) personal income tax exemption for the personnel working in mechanical enterprises of agriculture and rural development; (iii) land-use rental charges cut and exemption for mechanical engineering companies upon a process as follow: applying land-use rental charge exemption to the newly-established within the first ten years, then partial exemption to the newly after ten years operation and the currently operating companies.
The second is about the domestically mechanical production. Mr. Tuan also gave request that it is necessary to issue a Decree on regulating to make use all materials and equipments goods that being able produced by the domestic mechanical enterprises regardless of fund from any investment (i.e. State budget, private sector or FDI …) inside the country only without permission of import, which should be supplemented, managed, supervised critically from the early stage of invested project formation, planning and approval as well as imposed in the Law on Investment, Law on Bidding,…
The third is about financial credit policy. The request for applying credit loans with stably low interest rate to long-term lending for facilities investment and short-term lending for engineering production and operation are also given by Mr. Tuan.
Finally, it is necessary to settle an authority agency at general department level in order to carry out the planning, management and supervision, building data base, supporting the commercial promotion events… timely following to the target of mechanical engineering industry development in Vietnam. All standards and criteria on domestic mechanical products which required meeting the global standards, should be completed and issued promptly and synchronously; regulation on importing and supervising high-qualification labours who working directly for mechanical engineering in Vietnam.
Nguyễn Duyên
Comment