'Soldier-mannered' Lilama engineers and workers
The Song Hau 1 Thermal Power Plant – a mega national project with state-of-the-art technology in Vietnam located in Chau Thanh commune (Hau Giang province), which PetroVietnam is the Owner and Lilama Corporation as the EPC contractor, is coming to be inaugurated on July 16th, 2022 and put into commercial operation after nearly 7-year construction.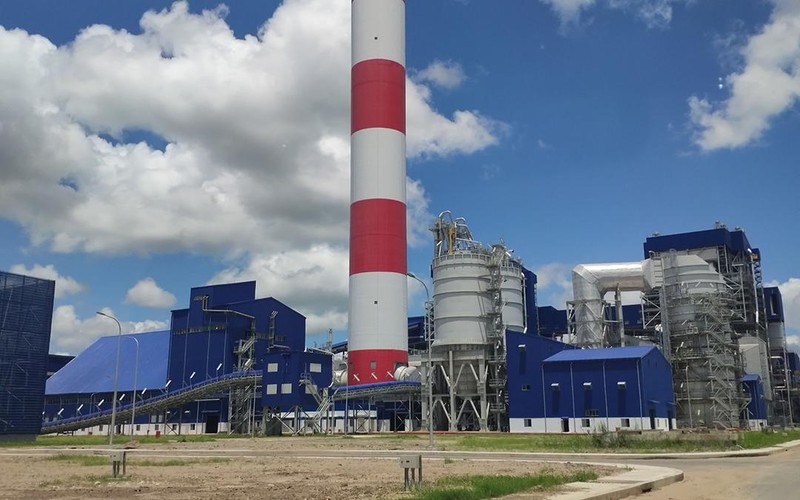 A scene of the completed Song Hau 1 Plant.
To more than 3000 LILAMA engineers and workers involved in the Song Hau 1 construction who are likened to 'soldiers', the coming inauguration shall be the moment making them feel much proud and emotional for their long-time await. The project is not the first one Lilama played with the role of EPC Contractor, but it still recognizes the soldier-likened manner of these labourers as they show off their expertise and creativeness in mastering new technological applications successfully.
1. In the past, the 150-hectare land, which the plant was building, used to be a marshland filled with reeds on Hau River southern bank in Mai Dam town, Chau Thanh commune. By the end of 2015 since the first piles driving down, we, the reporters had followed and experienced real life a couple of times with Lilama engineers and workers to live, work and eat together at the project site. Therefore, when the glorious scenery of the Song Hau 1 plant with majestic steel structure frames of 40-50m reaching high for the blue sky appeared, it became a very familiar view to most local people there but surely brought an amazing sight to other ones just coming back after many years going far away from home.
The 1,200MW Song Hau 1 Thermal Power Plant is one of the important national projects approved by the Government in the Electricity Plan VII for applying special mechanisms and policies. Its total investment is 43,000 billion dongs (equal to over USD 2.05 billion), which PetroVietnam being the Owner and LILAMA Corporation the EPC Contractor. When put into operation, the plant shall supply an electricity production of about 7.8 billion kWh per year, making a great contribution to stabilizing the national energy security and developing the economy in the Southern Region and Hau Giang province. Mr. Tran Kim Bich – Lilama Deputy Project Manager shared his memory of the first days coming here: "After Vung Ang 1 Project had been completed, I and other 30 colleagues were appointed to take new tasks to the Song Hau 1 site immediately. During the first six months, we initially 'camped' to live near the project site in houses rented from the local people and deployed all necessary works such as land drilling surveying, and soil structure treatment for the stable foundation which could load with heavy equipment and devices afterward; designing and building up office and accommodation for staffs and workers, etc..". The team was dedicated to working to figure out each line and shape of the future plant lying among a desert place to become visible. This duration of foundation construction is the basic and crucial stage for LILAMA and contractors to deploy engineering activities of the design process for main systems such as boilers, turbines, and auxiliary items as well as to plan procurement of material and equipment for installation.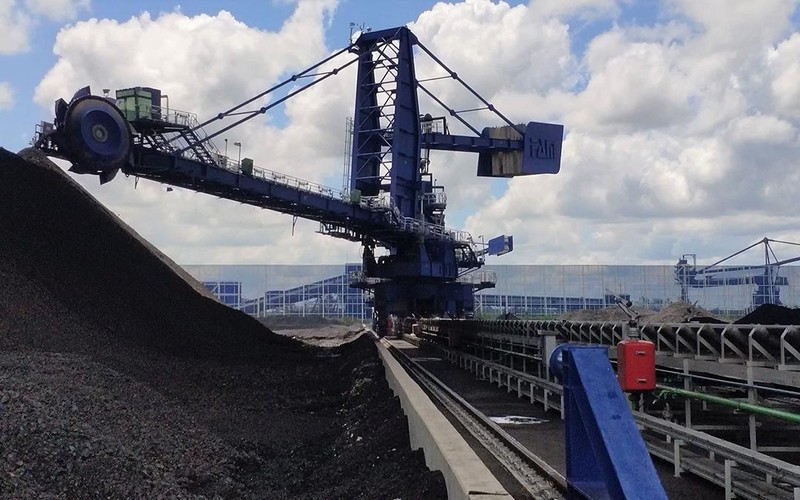 Lilama workers performing coal unloading machine installation in Song Hau 1 TPP site.
Upon the schedule "critical path", the EPC contractor calculated and planned the performance of all items of priority in order to make sure both construction and installation completed at the same time. By July 2016, the boiler had installed just after only 7 months since the first foundation piles drove and nearly 1 year later the main transformer erected.
Engineer Vu Trong Thiet – LILAMA Project Manager said that steam boilers, turbines, water ports, material conveying systems, etc… considered the hardest items to execute due to the equipment used having utmost importance and high difficulty level, and requiring much time to do. Therefore, the performance of heavy equipment for Song Hau 1 project was the liveliest illustration to show off Vietnamese's as well as LILAMA's creative mind and expertise in carrying out successfully a range of oversized items like giant piles, the steel structures for boilers, 10,000-ton water tubes with 100-ton components at an altitude of 84-metre height. In a 1,000-ton generator erection, LILAMA engineers and workers had to find out methods for lifting and placing a super-heavy component into 18-metre-high basement by using a hydraulic jack system - specialty equipment with absolute accuracy.
In addition, the erection of two coal unloading machines outside the water port with composite components weighing hundreds of tons also became a 'marvel' of LILAMA's engineers and workers. Amid Hau river water, they decided to use the 250-ton crane as an invention in fabricating a platform system able to bear a capacity of 500 tons in a safe condition. Not to mention the cooling water system, particularly the cost for performing methods of such works as excavating 18-metre deep dug holes by CDM piles with protection measure, building dyke with two layers of steel sheet pile and sand dike for keeping steadiness from the water pressure from outside the river also raised up to hundreds of billions dong.
2. Labor Hero Le Van Tuan – LILAMA President & CEO said that, from the commencement dated May 16th, 2015 till now, the EPC Contractor and other contractors have completed a huge quantity of installation work as follows: over 10,000 tons of material and equipment, 270,000 m3 of concrete and steel structures, and obtaining 25 million hours of safety working performance. All items met the requirement of technical figures and standards according to the EPC contract. Also in this project, the rate of domestic localization for engineering and material & equipment manufacturing gained by over 30%, even reaching 55% because domestic companies could produce to supply some packages.
It needed to say that a coal-fired power plant is a complicated work with numerous systems using different technical processes with strict requirements on quality and precision when building. During stages from engineering to construction and installation, it was supposed that LILAMA's team and other contractors always took a profound comprehension of putting the quality first and strictly followed the quality controlling procedure; meeting safety requirements on fire fighting and prevention, and environment protection. Therefore, the construction was highly appreciated by the working delegation of the State Council for Pre-Acceptance of Construction Project every inspection term.
Back in 2002, LILAMA had to hire a foreign company to be the technical advisor when the first coal-fired contract signed. So far, the company has grown and been self-confident in its capability of mastering the technology process, and can fulfill the construction of the most difficult 'case' on its own. "The success of Song Hau 1 accomplishment today has not only marked the growth of the Owner, the EPC contractor and subcontractors as domestic enterprises, but also been the pride of the management staff of one of the largest thermal power plant projects in Vietnam because they all were the Vietnamese playing the main role in taking over all stages and segments from engineering, procurement, construction and installation, testing and commissioning, and operation", stressed by Mr. Tuan.
It would be remiss if we unmentioned the impact of the Covid-19 pandemic on the project implementation. In the beginning of this time, despite the outbreak of disease throughout the country, thousands of labourers were not affected with safety due to seriously executing all measures of disease-fighting and prevention with a guideline called "Nobody's getting in or out". However, when CDC's team of Can Tho city organized quick tests for all people, there appeared a CDC's staff infected with Covid-19 made the spreading coming out very fast all over the project site. It was fortunate that the officers and workers only got minor symptoms, but on the contrary, the global supply chains at that time were broken so the supply of material and equipment could not arrived on schedule. As the testing and commissioning process started, experts of foreign contractors needed to attend for system adjusting work. However, when arrived in Ho Chi Minh City by plane, they had to be quarantine from 14 days to 21 days and then continued to be isolated in Can Tho for over 1 week according to the Vietnam MoH's regulation, which made them really depressed and insisted on leaving.
Engineer Nguyen Van Hieu – Head of Testing and Commissioning Department of LILAMA PMB remembered how hard the expert mobilization for the testing was and the way it affected the schedule was so dreadful. While all activities for this item had been set up already, there appeared a situation of many pieces of specialty devices being unarrived and testing experts unable to fly to Vietnam due to Covid-19 spreading that pushing the execution into paralyzing for times. Also in the running - in-under load and reliable running process from May to December 2021, the operation of all equipment and systems was required to be put under continuous supervision, all engineers who were responsible for this had to work regardless of day and night without leaving the site, even hearing un-good news from their home. Also at that moment, the outbreak of Covid-19 spreading strongly everywhere made a lot of labourers feel pressure, worry, and shaky, but after all, they could get over this situation for duty fulfillment by supporting and encouraging each other.
One LILAMA officer shared that our engineers and workers had received offers to work given by many foreign contractors for their qualified skills and experience during Song Hau 1 project implementation. In the market mechanism, the fact is that 'brain drain' is unavoidable to every company. So does LILAMA. Some young engineers had left for better income, but others who had owned many years of devoted working for LILAMA defined that being a machinery worker was similar to joining a battle as a soldier, which meant we might live a life here and there to the place where the project would be located. As getting used to the jobs, these 'soldiers' would unmind hardship and were not easily to be enticed by temptations. Therefore, their greatest desire was to participate in more projects like this, which the State was trusted to assign in order to strengthen further their capability and have more opportunities to reach out the hand to the world market in the near future.
XUÂN THỦY và QUANG HƯNG
(Theo: https://nhandan.vn/chat-linh-tho-lap-may-post705376.html)
Comment