The Expanded Hoa Binh Project: Package valued VND 3,200 billion awarded to Joint-venture of LILAMA 10 – Truong Son – CC 47
On December 15th 2020, Vietnam Electricity Group (EVN) represented by Vietnam Electricity Power Projects Management Board No.1 (EVNPMB1) celebrated a contract signing ceremony on construction of the Package 1XL-HB of the expanded Hoa Binh Hydropower Plant Project with the Joint-venture of contractors LILAMA 10 JSC – Truong Son Construction Corporation – Construction JSC 47.
The expanded Hoa Binh project is owned by EVN with the total funding of 9,220 billion VND, in which 30% is arranged by EVN and 70% from commercial loans. It has the total capacity of 480MW comprised of two turbines, and the electricity output of 488.3 million kWh per year.
This is a national project of a profound social and economic significance in which the scope of work is quite large in scale and volume, performance shall be carried out under complex terrains requiring strong experience and technical expertise from involving contractors, while still keeps stablizing the existing Hoa Binh hydropower plant and safety for other industrial works within the area.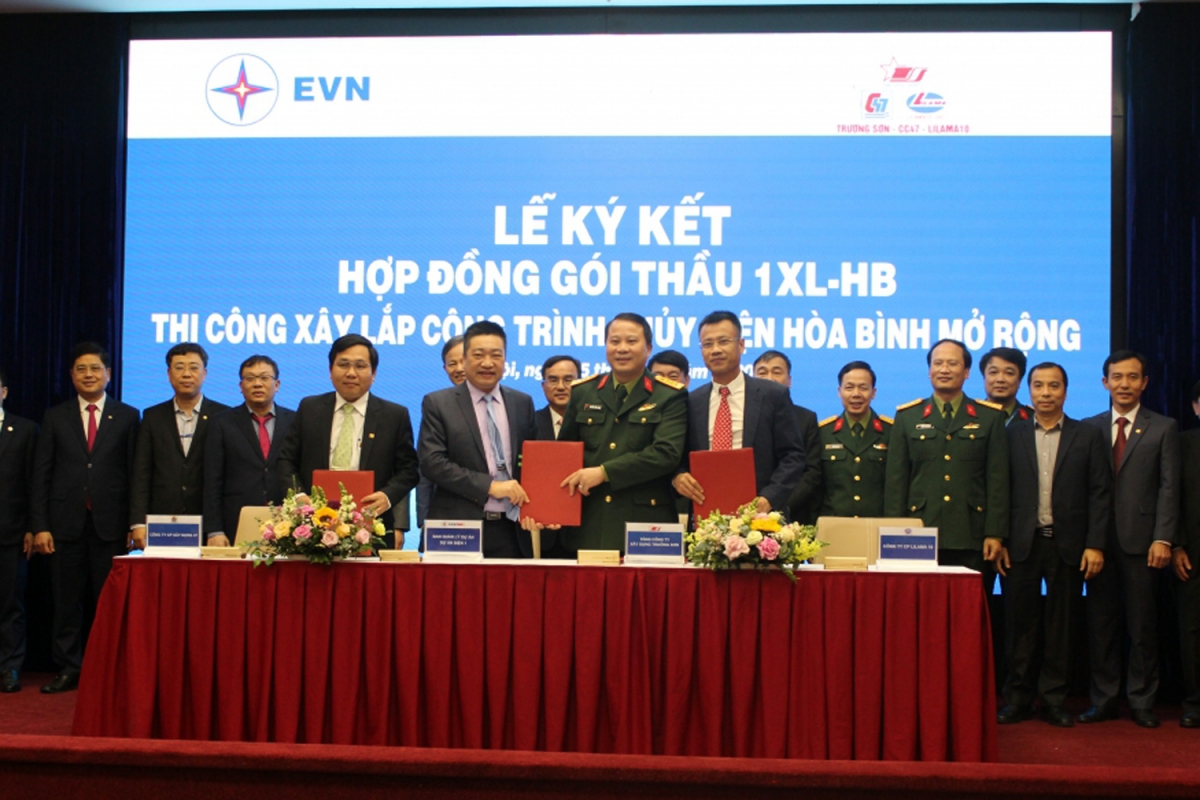 Mr. Dang Van Long – President of LILAMA 10 Co. with the Joint-Venture of Contractors and the Owner EVN in the signing ceremony (second on right side of first line)
To be considered to a heading machinery and installation unit of the Vietnam industry, LILAMA 10 has been implementing a series of key national hydropower projects and oversea ones such as Hoa Binh, Son La, Lai Chau, Huoi Quang, Ban Chat, Thuong Kontum (upstream), Nam Ngum, Nam Theun (Laos), Sendje (New Ghine), and others on thermal power plant like Nghi Son 2, Song Hau 1, Long Son Oil & Petrochemical Refinery, Lao Cai Copper Smelting,… before being awarded with the expanded Package 1XL-HB. With the historical expertise and experience, LILAMA 10 shall accomplish the plant construction on schedule, meeting quality as the Owner's requirement under the contract signed.
According to Mr. Bui Phuong Nam – Head of EVNPMB1, the Package XL-HB of the Expanded Hoa Binh Hydropower Plant Project values over VND 3,200 billion and the duration shall be in 44 months which is stressed as a really important one. After completion for operation, the plant shall not only enhance the electricity load for the Northern region, especially in rush hours, but also support and strengthen the power generating operation of the whole hydropower plant system, reduce electricity producing cost, improve the flood controlling and water flow regulating for the downstream area of Da River.
PV
Comment