Lilama 69.1 continues to export air pre-heater to Japan
On 13/9/2021, Lilama 69.1 continued to deliver the second batch of the 334-ton air pre-heater 1 to Japan after the initial shipment exported in July, 2021. This is the first complete in the total of 03 air pre-heaters using for thermal power plants manufactured by the company under the signed contract with Sumitomo Corporation.
As before, the first batch of a 47-ton product of the air pre-heater 1 had been delivered to this partner in Japan on July 18th, 2021. From March 2021, the total volume of this product manufactured by Lilama 69.1 was up to 381 tons at Bac Ninh Steel structures and equipment manufacturing factory – the company subsidiary. Besides, Lilama 69.1 also fulfilled many other contract orders of fabrication for exporting overseas like Thailand, Indonesia in the first quarter of 2021.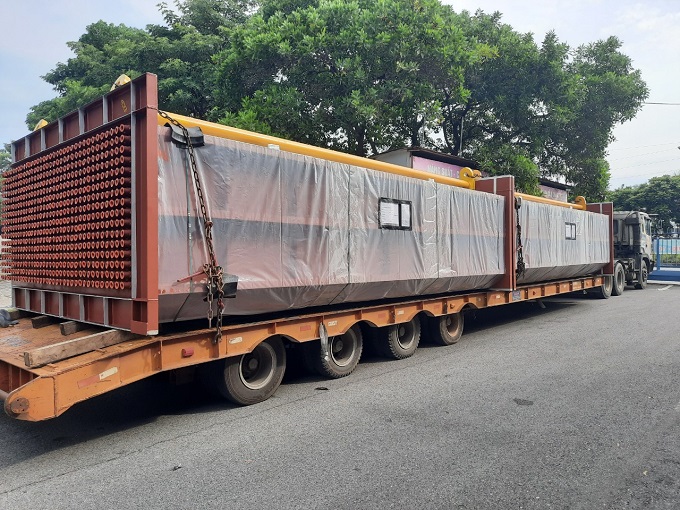 The manufacturing of an air pre-heater is undergone a lot of segments: cutting and drilling the grating, constructing grating frame, placing and fixing tubes, adjusting size, installing supporting items and increasing hardness for the Block, welding grating, case tubes and ducts, painting anticorrosion for ducts and Blocks surroundings, tube oil soaking, shipping mark. Particularly, the work of welding for the Block exposes complicated as it may cause changes in the whole equipment size and quality during the tube placing and fixing, however this has been solved effectively by Lilama 69.1's engineers with their experience used to construct many air pre-heaters of such kind previously. Throughout the process, the performances were always conformed the company's QA-QC on technical procedure under the strict supervision of Sumitomo's experts.
After completion of the air pre-heater 1 delivery to Japan, the two remaining ones 2 and 3 shall be put into producing sequentially, in which two batches of the air pre-heater 2 is expected to export on October 5th and November 15th (referring to as finishing) respectively of the year 2021.
Nguyễn Phú
Comment