LILAMA 10 signed contract on Package 37 for construction of the expanded Ialy Hydropower Plant Project
On March 27th, 2021, Vietnam Electricity Group celebrated the signing contract ceremony on construction for Package No. 37 (XL-05) of the expanded Ialy Hydropower Plant Project with the Joint-venture Consortium of Lilama 10 J.S.C - Lung Lo Construction Corporation – Truong Son Construction Corporation – Song Da J.S. Corporation – Vietnam Construction & Import Export J.S. Corporation.
The Package 37 (XL-05) of the expanded Ialy Hydropower Plant project on construction of the hydrotechnics and hydraulic mechanical equipment has the total investment of VND 2,365 billion, which is considered as the large-scale package with complicated specification and high technical requirements to play a decisive role in the completion the project on time. The scope of work are the construction and equipment installation work for the main items including: water intake and approach channel, water tunnel, surge tank, penstock, plant, discharge canal, retaining wall; slope reinforcement and protection against stone-rolling, division wall T1 and plant flow channel; building the service works for performing construction such as banquette of water intake, subground work and division wall T2, auxiliary tunnels and service subways; construction and transport road, materials gathering yard; other premilinary works and auxiliaries, all procedures on safety, health, environment and society according to the Owner's requirements.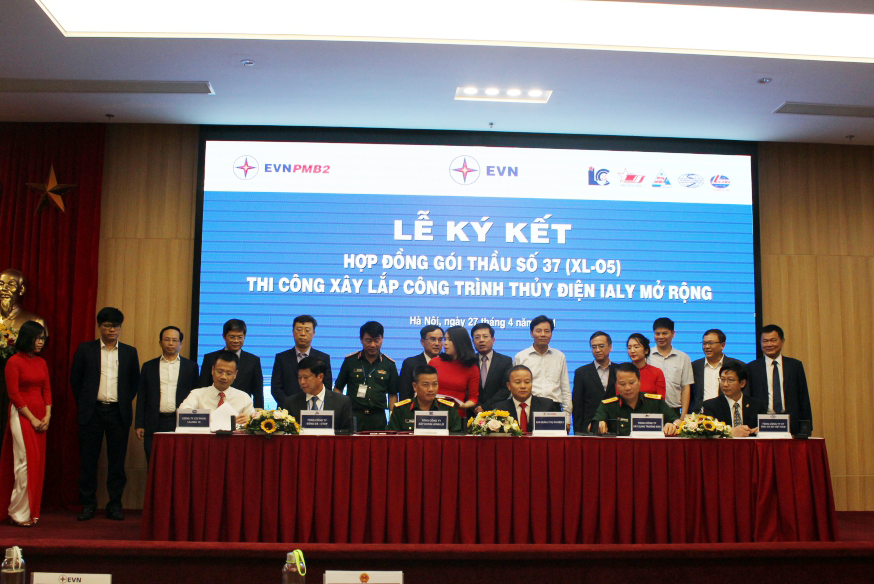 In the ceremony, Mr. Duong Quang Thanh – Chairman of EVN BOM addressed the Electricity PMB No.2 and the Joint-venture Consortium to focus on preparing activities relating labour and vehicles resources mobilization in order to hold the commencement for the water intake banquette soon before the stage of the existing reservoir's water storage, while satisfying the quality and schedule requirements, deploying the HSE management system (health – safety – environment) as well as conforming to inspection procedures seriously to control and minimize impacts on society and environment during the construction.
As before, Lilama 10 J.S. company had constructed a number of important projects inside and outside Vietnam including hydropower plants like Hoa Binh, Son La, Lai Chau, Huoi Quang & Ban chat (Lai Chau province), Thuong Kon Tum (Kon Tum province), Nam Ngum, Nam Theum 1 (Laos), Sendje (Equatorial Guinea); and others like Nghi Son 2 Thermal Power Plant, Song Hau 1 Thermal Power Plant, Long Son Pro-Chemical Refinery Plant, Lao Cai Copper smelting Plant expansion, …
Under the signed contract, Lilama 10 shall perform the following work:
Item: Hydrotechnics and Hydraulic Mechanical Equipment installation: valued VND 319 billion
Duration: 43 months
Name: Package No. 37 (XL-05)
Project: The Expanded Ialy Hydropower Plant
PV
Comment