Upgrading a higher level in the global value chain
With an average localization rate of 33%, Vietnam shows its level of enterprises' participation into the global value chain being still low. In the 2nd Annual Forum of Vietnam Renovation and Development (VRDF 2019) recently, Prime Minister Nguyen Xuan Phuc emphasized: "Vietnam must thrive in action, enhance the national human resource in terms of dynamism and creativeness as well as upgrade its qualification through newly advanced technology application for developing more and more capable enterprises which are available to join deeply the global value chain and receive the world's new technology transferring in order to step up higher levels of added value and get more benefits from the global value chain integration …"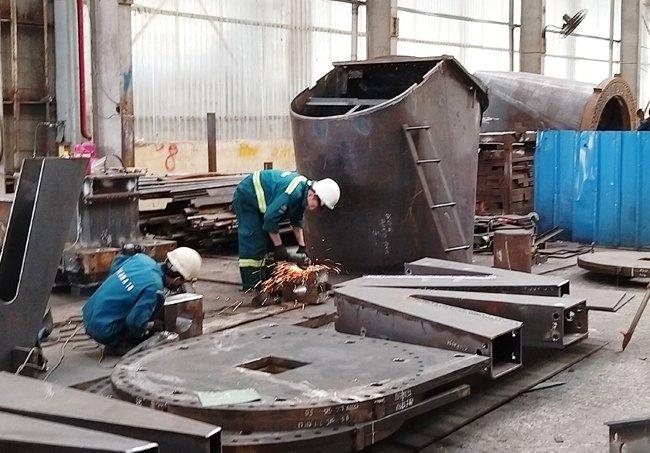 Mechanical manufacturing in a Lilama 18 company's factory (a subsidiary of LILAMA Corporation).
Lesson 1: Why are enterprises hard to join the global value chain?
In the context of Vietnam's wide and deep integration into the world' economy, there have been also available opportunities for Vietnam to join the global value chain. However, most of Vietnam enterprises were "so much to do, so little get done". The main causes of this derived from the enterprises' limited capability and shackles of the State's mechanism and policies which prevented them from chances of breaking through and sliding out of hand.
Missing the golden opportunities
Fans of Barca football team (Barcelona of Spain) all remembers the printed BEKO on the footballers' left-hand sleeve. This is the largest electronic household brand of Turkey of which the products are available in more than 100 countries all over the world. In 2015, BEKO reached the fastest race of development in Europe through the past 7 years. A few years ago, BEKO arrived in Vietnam and offered to initiate a joint-venture with Tan Binh Viettronics Co.,ltd (VTB) for building a factory of washing machine manufacturing for global exporting. The President of VTB Vu Duong Ngoc said that BEKO was mainly interested in how the costs of production in Vietnam (including import taxes and fees of components & accessories for washing machine manufacturing) were in comparison with that of neighbouring countries in the region. To answer this question, VTB company "packed" and sent list of all 50 items of washing machine accessories (in which 13 items were ordered domestically and 37 items imported oversea) to the Center for export goods category and analysis (of the Custom General Department's Import) to request for import tax application. The Center's answer was completely surprised that import tax rate for all these 50 items of accessories were equivalent to that of finished products (from 30% to 35%). According to the custom regulation, if the imported accessories had feature of finished products, they should be applied the same tax rate as finished products. For example, imported motors were featured as motor of washing machine, so they should be applied the tax rate as the same as motors of finished washing machines; or the imported circuit main-board was that of controlling a washing machine, so it should also be applied the same tax rate as a finished washing machine … For a long time of nearly a year, VTB constantly made out all analysis, counter-arguments, and requests to the matter but there was no result. Finally, VTB gave up this deal and BEKO decided then to invest in Thailand where the import tax for washing machine accessories were nearly zero percent. I have been regretting about this lost golden chance everytime I thought of BEKO's washing machine manufacturing factory in Thailand. In fact, it was not the Center's fault because they had had no authorization and particular guides upon legal consent on such cases and the result of giving out maximum tax rates was for "safety" in case they would not be responsible for in the following time. Unfortunately, this caused difficulty for enterprises. I have requested to the Ministry of Finance many times but nothing happens", said Mr. Duy.
It is able to state that LILAMA 18 company's mechanical manufacturing factory is an illustration for holding a golden opportunity as the vanguard of LILAMA Corporation. It also is one of the domestic enterprises gaining large-valued order contracts in Vietnam with an average revenue of about 400 billion VND per year. In our business visit to LILAMA 18's factory, we could see hundreds of workers who are directly producing series of mechanical equipments for the world largest industrial groups such as Koch (USA), Danieli (Italy),… like manufacturing seaport material loading machines of 600 tons exporting to England, or that of 1000 tons to Canada. According to Mr.Nguyen Khac Thanh – General Manager of LILAMA 18' factory, there was a paradox that despite the factory was still excessive in ability and has not yet worked to full capacity, the factory was not able to receive more large-order offers from oversea partners due to hard pressure on delivery schedule. It took from about 06 to 08 months to complete an order upon its scale, but the time for seeking and importing materials for an order should be taken from 02 to 2,5 months because of the domestic metallurgy's weakness, while the orders of non-standard products required much time for preparation of materials. The feature of the mechanical industry is demanding for big fund but low interest rate. If the company put risks to import materials in advance without having any purchasing orders, the business should be certainly failed. Lots of LILAMA'18 long-time partners had also created advantages in sharing their executing projects' work pieces if the company showed its trust and competence to fulfill on time but it is difficult to follow for nowhere to be begin. Therefore, the company's factory had had to limit its possibilities by fabrication work only and not been proactive position to carry out work pieces awarded from foreign companies. Besides, the custom procedures have still been rather bureaucratic and inadequate also causing time and costs waste (i.e storage charge and transport fee…) for the company.
The industry simplified with outsourcing production
One of the Vietnam industries owning potential to join deeply in the global value chain is the textile. For the past many years, its growth pace has been always in two-digit number of which the export achieved up to billions of dollars per year, but the growth rate of value was still low. Vice-Chairman of the Vietnam Textile Associate (VITAS) cum Chairman of BOM of Hung Yen Garment Corporation (HUGACO) Nguyen Xuan Duong analyzed that each medium-quality shirt exported to USA would cost 6 USD of which materials and accessories accounted for 3 USD per one and worker fee only 1.2 USD (including expenses of cartons, wooden pallet, hook, bag…) but import tax charges and fees 1.8 USD per each. After importing to USA market and being sold to the consumer's hand, it would cost about 11~12 USD. As a result, most of Vietnam textile enterprises had participated into the global value chain at just the simple outsourcing stage which required a large quantity of labours but reached low value. In the textile and garment production chain, there was 80% of workforce at sewing phase and others with evenly distribution, of which the profit accounted for only 20% of the total value. While the inputs (i.e cotton planting until dying finality phase) accounted 15% labour force but values 60%, or the final stages of distribution, sales and service accounted for only 5% of workforce but valued 20%.
As the same as the textile industry, Vietnam electronic industry is rating the twelve in the world and the third in ASEAN with the value of billions USD per year. In 2018, the total export value of mobile phones and components reached 50 billions USD, increasing 10.5% in comparison with that of 2017; electronic goods, computers and components values 29.4 billion USD increasing 13.4%. Besides, Vietnam is one of the world largest electronic production workshop as well as an attractive destination of biggest FDI flows from the world large groups such as Samsung, LG, Panasonic, Intel,… It was believed that these chances would be ripe for Vietnam enterprises to enter deeply into the global value chain through supplying electronic components and accessories to the world leading groups. In fact, the matter had not happened as expected. Deputy Director General of the Enterprise Development Department (the Ministry of Planning & Investment) Nguyen Hoa Cuong said that 77% of components of the electronic industry should presently have been being imported to Vietnam especially of which the simple electric and electronic components accounted for more than 98%; and specialized components 84% relatively,… while the domestically producing components accounted for only 6%. This has been shown that the national enterprises' role was rather vague and mostly limited by outsourcing stage of simple components assembling and services providing with small added value leading to the lackness of competitiveness in the market. Although there were several domestic enterprises in Vietnam to invest in electronic zone but offshore capital invested companies were still the main leading in exporting from which large added value was created, therefore the profits gained by domestic enterprises was rather small in comparison with their counterparts.
The above stories were not rare in the overall picture of the market during recent years. Most of Vietnam enterprises were small and medium sized (accounting for 97%) owning small capital and weak governance that made them difficulty to hold opportunities for breaking through while there were many existing barriers within the State mechanism and policies. Particularly for illustration, the domestic mechanical industry had been still conducting in "cash on delivery" form and the added value content obtained from its products was small. LILAMA 18's General Manager Tran Sy Quynh said that, in order to be accepted by the world leading groups, the Company had to experience a long process of "changing its look" comprehensively under clients' critical and intensive supervision on manufacturing procedures from their orders. That the profit from products exporting by the Company were higher than from domestic outsourcing but was far less than from foreign invested companies. For each manufacturing contract, LILAMA 18 was paid in terms of amount of money per ton of materials (approximately from 2 to 4 USD/kg), while many other foreign companies been paid upon that per ton of finished equipment (with involved human capital content) equal to or more than 10 USD/kg.
Mr. Nguyen Chi Sang - Vice Chairman cum General Secretary of Vietnam Association of Mechanical Industry (VAMI) quoted that before 2003, Vietnam had had to import hydro-mechanical products from Russia, Ukraina, China with an average unit price of 2,000 USD per ton. However, when we could master the engineering and manufacturing work, the average unit price was down to less than 1,500 USD per ton. If we calculated the total value of hydro-mechanical equipment using for hydro-power plants, this amounted number should be raised up to tens of trillions VND; or if we did the same with some kinds of equipment for building thermo-power plants such as electrostatic precipitator system, coal unloading & conveying belt system, ash disposal system… the total value should be down to approximate 20% while the time of project completion schedule would be shortened and could bring back enormous economic benefit. The above listed works are able to be completely performed and competed by domestic enterprises when they enter the global value chain. However, it is supposed that the Government's priority to use domestic mechanical equipments shall be given to some of the public invested projects only, but not to the foreign loans invested or international bidding projects. According to the roadmap of mechanical industry, important projects especially projects on building thermo-power plant should be carried out every year. In fact, the conduction of these projects were so slow that causing of stage narrowing for domestic enterprises' performance, constraining the modernization pace and the production expansion in accessing the global value chain for the mechanical industry. Golden opportunities had been missed without making the domestic enterprises tumbled down but preventing them from development with growth and strength.
Textile and garment is one of the Vietnamese industries having the largest exporting but owning an importing rate of 80% materials and accessories including cloth, leather, sewing thread, button, zipper of different kinds, …
The textile export value of 2018 reached over 36 billions USD but we had to pay more than 22 billions USD for importing materials and accessories in service of production which made the revenue being too low in comparison with the exporting tens of billions USD valued costs that had been invested every year.
LE TIEN TRUONG
President & CEO of Vinatex Group
Posted and picture: XUÂN THỦY, VIỆT HẢI VÀ HOÀNG ANH (nhandan.com.vn)
Comment