LILAMA 18: Affirm Strength with Prestige
In the context of Vietnam mechanical industry facing constant difficulties, Lilama 18 still has developed in its own way by regularly obtaining large-value purchasing orders of equipment export. The mission of scaling up mechanical manufacturing plant, promoting to obtain more export orders from global large industrial groups as well as creating and sustaining jobs for more than 3000 Lilama 18's officers and workers has affirmed Lilama 18's strength and prestige.
Lilama 18 invests to scale up the manufacturing plant to meet the requirement of fabricating export
In the talks with Mr. Do Minh Tri – Executive Vice President of Lilama 18, he said that Lilama 18 is the partner with tens of famous mechanical engineering groups throughout the world. Currently, Lilama 18 is well-known by company partners inside and outside Vietnam in terms of 03 major fields as follow: fabrication, installation and maintainance. In fabrication, Lilama 18 is capable to manufacture and supply 04 main products including container cranes for ports (STS tackle crane and gantry crane); loading and mining conveyor–belts; LPG materials and equipments (now supplying for about ten bidder-customers inside and outside Vietnam); and auxilaries for the above three listed.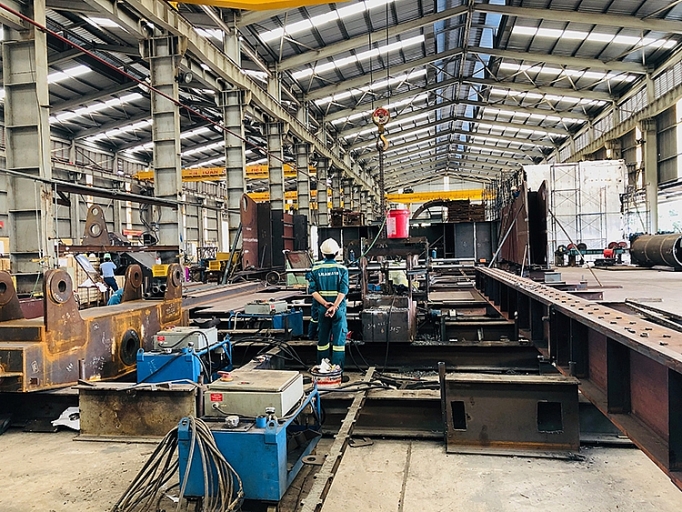 Lilama 18 Steel Structure Fabrication and Mechanical Equipment Plant extented to meet the needs of fabrication for exporting orders
In order to support the increasing development of the Company's business, Lilama 18 Steel Structure Fabrication and Mechanical Equipment Plant located in An Dien commune, Ben Cat district, Binh Duong Province has been invested and currently enlarged. Initially, the Plant was built on an area of 6.8ha square with one (01) manufacturing factory, two (02) fabricating yards. So far, it has been scaled up to nearly 10 ha square with 03 more manufacturing factories of which different functions are divided suitably to perform according to work-scope business.
In addition, more equipments has been invested to facilitate work performance including 02 gantry cranes of 20-ton and 30-ton types, 04 overhead cranes of 10-ton to 30-ton types, which raises the total quantity of available cranes up to 22 ones. This poses Lilama 18 to be more proactive in work conduction and increase the labour productivity at the same time.
Besides, due to the need of large size and technically high accurate equipments to meet the work performing requirement, Lilama 18 has further facilitated the Plant by purchasing 01 Floor type Boring and Milling Machine Union BFB 130 (Germany) of 9.2m x 3m in size which is able to deal with milling large surface of 7.5m x 2.3m and reaming a 30-depth hole with 0.5m in diameter that reach the accuracy 0.01mm.
The Plant has also been equipped with 10 cutting machines (Kobe – Japan) that may be deal with cutting conggurated sheets of nearly 200mm thickness, 04 portable line boring machines, 04 automatic welding machines named Lincon DC-1000A, and many other drilling machines and machine tools. Thanking to the decisive investment of all above listed equipments, Lilama 18 has increased its capacity of fabrication and installation by 10,000 tons of products from 7,000 tons per year.
Mr. Nguyen Khac Thanh – Executive Vice President of Lilama 18 stressed that after 10 years from the first order, Lilama 18 has always been proactive to master the new techniques and conducted production targeting to create the stably standard quality of products for every customer's order that not many domestic companies are able to fulfill. At present, the key export partners of Lilama 18 are the large and famous groups such as SMS Group (Germany), Danieli Corus (India), Takraf, Kocks Crane (Germany), Jhonzink (USA)… Particularly, Kocks Crane has involved in Lilama 18 as a familiar and regular supplier of fabrication products. At the same time, Lilama 18 also has another 40 customers who are mainly the large mechanical groups focusing their orders on the kinds of products as follow: port crane, materials and equipments for petrochemical refinery plants, cement and steel plants, belt-conveying and mining… As the result, Lilama 18 recently has achieved annual revenue of 400 billion VND totally from exporting mechanical products, created the average labourer income of 10.8 million VND per month for more than 3,500 labourers.
Lilama 18 be the first company to build and install LNG tank
On May 15th 2019, Lilama 18 signed the contract of Hai Linh Vung Tau project with Hai Linh Company Ltd. which makes Lilama 18 be the first company in Vietnam to build and install LNG tank. Under the contract, Lilama 18 is responsible for building and installing 03 LNG tanks with the capacity of 219,000cu.m located in Ba Ria - Vung Tau. This has been the most complicated device in terms of technical requirements so far in the field of petrolium in Vietnam, LNG (Liquid Natural Gas) fuel – liquiefied natural gas working at -1680C. All materials including welding rods are imported directly from Europe and made of 9-niken alloy steel. The welding rods, welding process and welders's skills are all rigorously tested to meet the international standards form impact test at -1900C.
Lilama 18 has proven its ability to execute the project with the results obtained from previous projects in oil and gas, such as PM3-Ca Mau, Mobil Gas, TPC Vina and especially Dung Quat oil refinery and Nghi Son petrochemical refinery.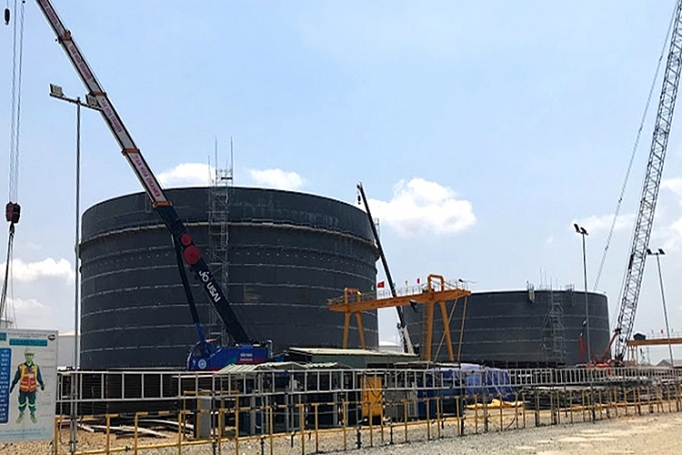 Building and installing 03 LGN tanks with capacity of 219,000cu.m in Ba Ria – Vung Tau
With the design characteristic of tanks having 2 layers by Niken 9, the material are not to be magnetised as required, and there was a distance between 2 layers, the performance with previous techniques became difficult. To meet this high requirements, Lilama 18 has equipped 04 more vertical welding systems for welding LNG/LPG tanks with one automatic side and 04 system with two sides for welding tank perimeter, the front was automatic welding side and the rear covered remedy to protect welded joints. All project welders were trained by foreign technology transfer experts to assure that they could use, operate the new welding machines fluently, satisfying the welding procedures according to technical requirements. All welding electrodes, procedures and welder's skill were tested seriously to meet the international standards form impact test at -1900C.
The new welding system under the control of Lilama 18's skilled workers has been brought into play its usefulness and advantages to allow the implementation of welding of 02-layer tank easily which would be difficult to perform by normal welding techniques. The use of new welding system also helps Lilama 18 save manpower, improve the labour productivity by 2-3 times than before.
Until the end of May 2019, Lilama 18 has constructed shell for 03 tanks, in which Tank 201 has been completed for 11/13 layers with the installation work of 7/13 layers, Tank 203 completed for 12/13 layers; dooms for all 03 Tanks have been finished in fabrication;
Although having a lot of experience in construction and installation of vessels, implementing this project is both a challenge and an opportunity for Lilama 18 to master the new welding techniques, improve the experience while undertaking the projects directly with high technical requirements. Believing that with its capacity and experience, Lilama 18 will fulfill the project sucessfully to affirm the capability of the domestic company.
congthuong.vn
Comment