Lilama 18 won contract on important equipment installation for Van Phong 1 Coal-fired Power Plant Project
On May 15th, 2021, Lilama 18 signed the contract with Toshiba Plant System & Services Corp (TPSC Vietnam) on installing the turbines, generators and auxiliaries of the Package Lot 2 for Van Phong 1 Coal-fired Power Plant Project with total value upto VND 284 billion.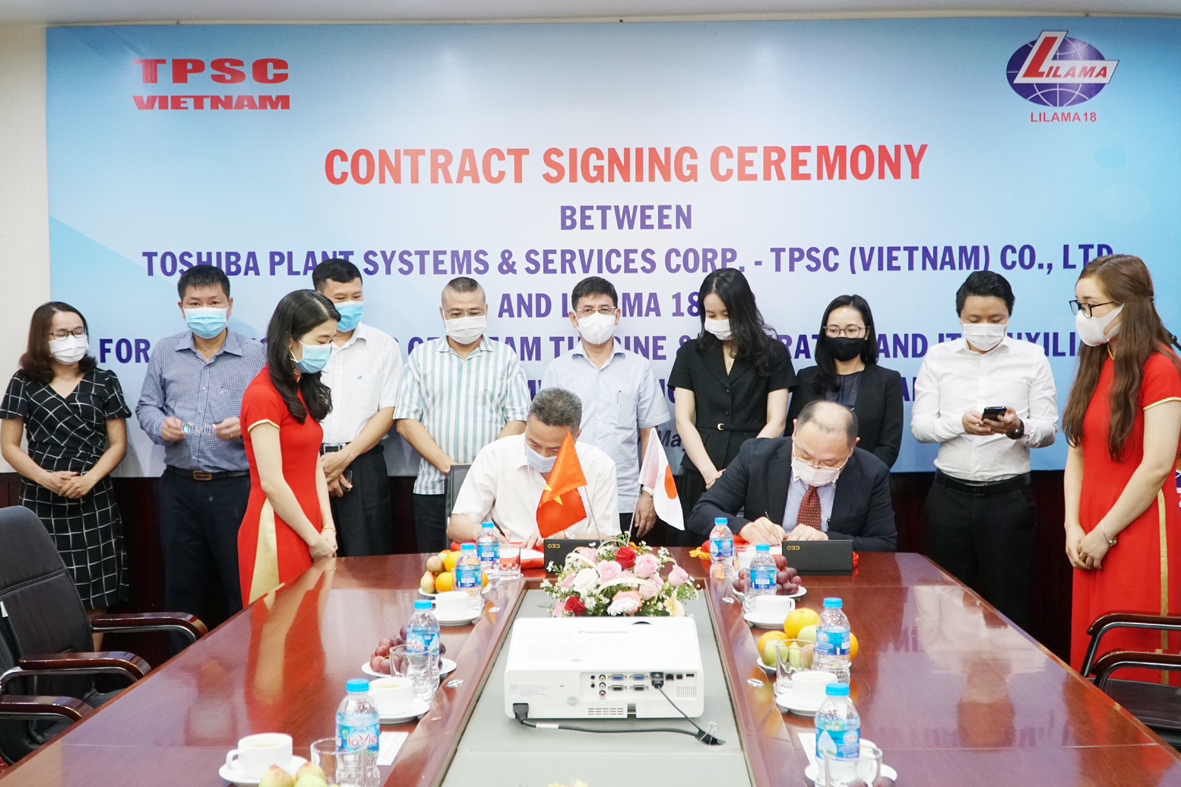 Under the signed contract, Lilama 18 shall implement and complete the installation works of the turbines, the generators, steel structures and pipes, insulation, E&I… within 32 months (from April, 2021 to December, 2023). This is the first large valued contract that Lilama 18 signed with TPSC in terms of equipment installation for the thermal power plant projects in general and the coal-fired in particular.
As before, Lilama 18 had signed the contract for performing the first package on the M&E and automation installation for two boilers with the total value over VND760 billion with Jurong Engineering Limited (JEL) – a leading construction and technical company in Singapore in May, 2020. So far, the company also won a more contracts for the Van Phong 1 PPP construction with the total value up to VND310 billion including the packages on building the cooling water system, electrical and C&I system, steel structures for the turbine chamber, water circulation pumping station and auxiliaries, main and auxilary equipment of the transformer; fabrication works for steel structures, off-grade pipes, funnel, tanks and painting… from June, 2020.
It could be said that Lilama 18 joined most of the main items of the Van Phong 1 project through which the company's capability and credit with satisfaction of the safety, quality and schedule once again were strongly affirmed in the field of mechanical installation.
The Van Phong 1 Coal-fired Power Plant Project is owned by Sumitomo Corporation (Japan) with the total investment up to VND 2,58 billion and the design capacity of 1320MW (02 Units x 660MW). It is built in Van Phong Economic Zone in Khanh Hoa province under the BOT form (Build – Operation – Transfer) and the electricity produced by the plant after putting into commercial operation shall be sold to EVN. An electricity production of about 9 billion kWh supplied the national power network via Van Phong – Vinh Tan 500kV transmission line shall solve the lackness of power in the Southern Region.
Duy Tình - Thu Hồng
Comment