LILAMA 69.1 – Reaching out to the world
LILAMA 69.1 JSC Company (as LILAMA 69.1) has continuously affirmed its prestige by the success of many large oversea projects on mechanical manufacturing as well as equipment exporting contracts for the world large industrial groups.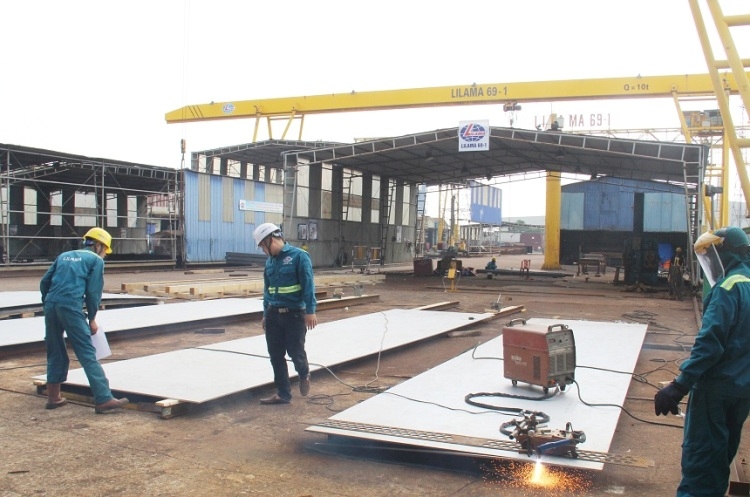 Steel ducts cutting for manufacturing tank of the A/U Fertilizer Factory in Brunei in LILAMA 69.1's Steel Structure Fabrication Factory in Bac Ninh province
To be trusted for Brunei Project implementation
As an important project in 2019, Lilama 69.1 had been carrying out the manufacturing works of material, equipment and pipe for Brunei Fertilizer A/U Factory in both places of Bac Ninh Steel Structure Fabrication & Equipment Manufacturing Factory (as Lilama 69.1's factory) and Pha Rung Workshop in Hai Phong.
According to the project scope of work assignment, Lilama 69.1 was responsible to implement pipe and equipment manufacturing and pipe painting work. More particularly, a total volume of 5,910 tons of products received from the company's manufacturing subsidiaries should be packed and loading for shipment on LILAMA Corporation's transporting means available in Pha Rung workshop (Hai Phong), in which there were 765.8 tons of partial steel plates for complete tanks fabrication including 46 tons of the niken steel plates and 719.8 tons of the inox steel plates; 1.96 tons of inox Duct plates with thickness ranging from 4 to 10 inches; 722.33 tons of pipe rack of different types in which 36.11 tons made of alloy steel and 686.22 tons of carbon steel; 100.685 ID pipes including 1,532.25 ID alloy pipes, 52,822.5 niken steel pipes and 46,330 inox pipes of all kinds; 38,708.53 metres square of materials and pipe all types for which cleaning and painting work provided. All above listed work shall be completed on schedule by Lilama 69.1 by the end of December 2019.
In order to maximize the productivity of materials and equipment fabrication and manufacturing for Brunei Fertilizer A/U project, LILAMA 69.1's Bac Ninh factory had been well facilitated and logical in arrangement with full of performing equipments and machines including cranes and gantry cranes for transportation, drilling machines, cutting machines, saw machines, punching machines, bending machine… of which the final products had to meet the strict requirements of the Client in terms of both quality and schedule, shared the Factory's leader.
During the past years, Bac Ninh Steel structures fabrication and equipment manufacturing factory had been invested and synchronously equipped by purchasing a number of apparatuses, innovating tools and machines as well as extending production ground. In addition, the company's engineering team who had been working directly on the workshop was very experienced and did their best to induce grey contribution into engineering and executing activities such as process designing, shopdrawings coding, bill of quantity estimating, materials cutting and fabrication supervising. All products manufactured by Bac Ninh factory were more and more highly accurate and able to satisfy the Client's strictest requirements and standards. As a result, all the factors mentioned above are very important to LILAMA 69.1 Factory in showing their excellent capability of pipe and equipment manufacturing for Brunei Fertilizer A/U project.
Brunei Fertilizer A/U project is located in Sungai Liang Industrial Park (SPARK) with 100km away from Bandar Seri Begawan capital of Brunei, of which the Owner is Brunei Fertilizer Industries SDN BHD (BFI) and the EPC Contractor is Thyssenkrupp Industrial AG (tkIS) (Germany) with the total investment of 1,3 billions US Dollars. Under the contract signed between LILAMA Corporation and tkIS, LILAMA should undertake the mechanical manufacturing and installation work accounting for 80% of the total mechanical of the project and might be awarded more work in addition during execution; the project schedule should last 23 months from December 2018 till October 2020. It was also the project with strict requirements on quality, schedule, especially safety measures in performance. In high time of the project, LILAMA might have mobilized the participation of up to 1,200 labourers. That LILAMA 69.1 was one of LILAMA subsidiary companies successfully joining Brunei project in equipment fabrication and installation work should mark an important breakthrough and created many opportunities for Lilama in general and Lilama 69.1 in particular to cooperate with the world large industrial groups in the future.
Gaining trust through equipment exporting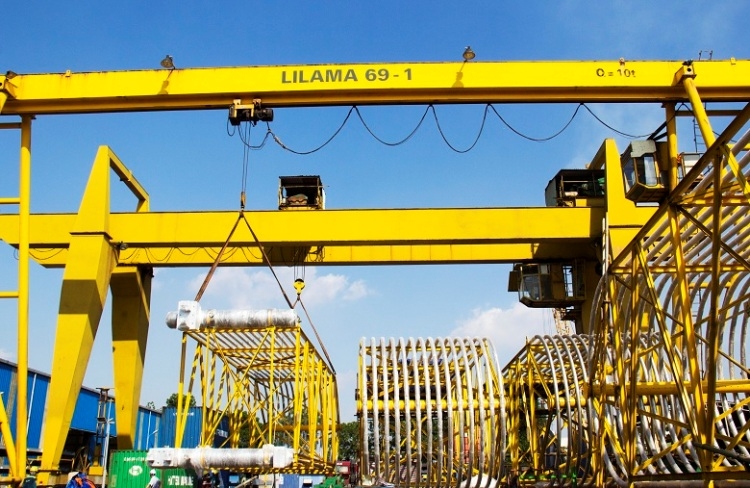 Fired Heater coil pipe racks manufactured by LILAMA 69.1
In the recent years, LILAMA 69.1 has strengthened their own brand through series of equipment exporting contracts worldwide to such countries as United States, India, South Korea, Singapore, China, Indonesia, Chile, Morocco, Iraq… and proved the company's strategy aiming at stepping out to the world market and affirmed LILAMA 69.1's position in mechanical manufacturing field by joining the global added value chain to be completely and appropriately effective.
It is necessary to mention a number of large value exporting contracts LILAMA 69.1 had signed with foreign partners. For illustration, the contract signed with Kirchner Italy S.p.A (Italy) on manufacturing and exporting 07 sets of Fired Heater project of which the completion of last packages of the third batch for shipment to Uzberkistan in November 2018 had been officially marked as a milestone of LILAMA 69.1. Along with Brunei project, there was a meticulous preparation for Bac Ninh Factory in terms of mechanical means and machines, human resource, production ground and performing plan for the implementation of Fired Heater manufacturing project. The work of fabrication and manufacturing should be carried out on both Bac Ninh factory and Pha Rung workshop (in Hai Phong). All leaders and labourers of the factory had always tried their best with great efforts and high responsibilities during the whole production process because they acknowledged that Fired Heater was a very complicated structure of the kind requiring high standard materials. Especially, this project involved in some new high technical item work such as: coil piperack fabricating, 23m long duct pipe, 35-ton weighted pipe…
Before that, LILAMA 69.1 had exported the first batch of 161 packages to Uzbekistan in August 2018 with the total volume of 1,400 tons of which there were 24 packages of coil piperack sized 15,000 x 5,000 x 4,500 (mm) and 137 packages of large steel structures of many different sizes. Next, the second batch of 61 packages with total volume of 657 tons was consequently exported to Uzbekistan in September 2018. Remarkably, there were 06 Fired Heater large sized chimneys involved in the second batch of which 04 chimneys sized 11m x 5.9m x 5.9m were manufactured in Pha Rung workshop and 02 remaining smaller chimneys of 11m x 4.9m x 4.9m fabricated in Bac Ninh Factory.
That the 03 batch of Fired Heaters exporting was certified to meet all requirements of Kirchner Italy S.p.A in terms of safety, quality and schedule. LILAMA 69.1 once again affirmed their capacity of Fired Heater manufacturing through the successful completion of the project, which shall open great chances for themselves to reach out to the world market and strengthen their capability of equipment manufacturing field for oil and chemicals refinery projects.
"The credit is necessary for the success. LILAMA 69.1's credit was founded on both good quality of products and delivery on time schedule as the two most decisive factors in co-operation with foreign partners. Despite the difficulties and challenges, the success of LILAMA 69.1 is the result of dedication, creativeness and solidarity of the whole company's leaders and staffs".
President of LILAMA 69.1 JSC Pham The Kien
Nguyễn Duyên-Nguyễn Phú
Comment